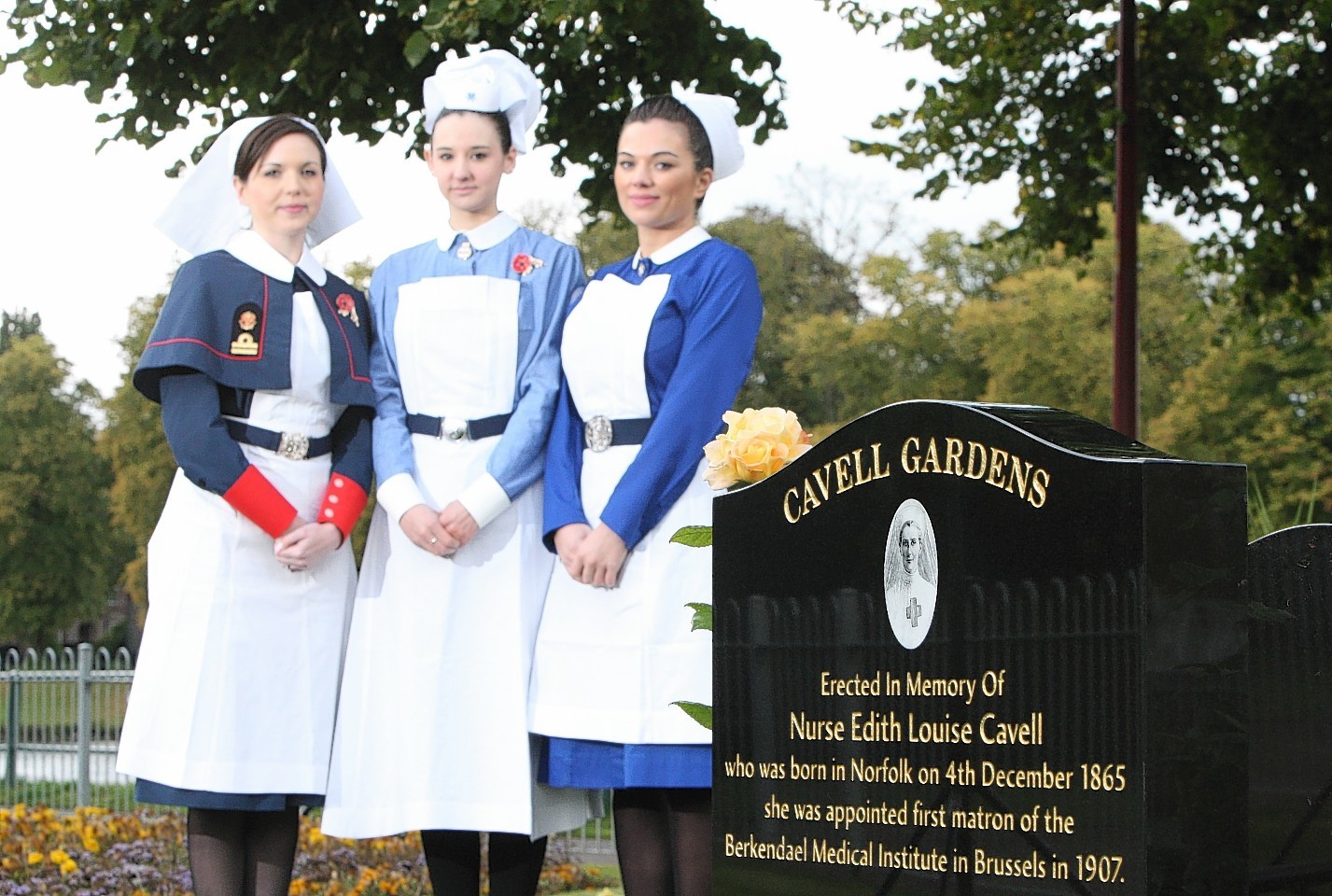 Highlanders have paid an emotional tribute to a war-time heroine exactly a century after she was assassinated by the Germans.
The Inverness service and unveiling of a headstone in honour of the vicar's daughter turned resistance fighter was part of global events to remember World War I nurse, Edith Cavell.
Mystery surrounds the reason for the north's long-held bond with the Norfolk-born nurse. But the respect for her heroism appears as strong as it was in 1919 when councillors in Inverness decided to create a memorial garden in her honour.
As the new headstone recalls, she helped 200 Allied troops escape occupied Belgium to neutral Holland during the first war and, at the age of 49, was subsequently accused of treason and executed by the Germans.
Nurse Cavell was born in 1865 and, at the outbreak of the war, formed a Red Cross hospital in Brussels. Over the next year, she helped refugees and nursed wounded German troops as well as British, French and Belgian soldiers.
Dozens of serving and retired servicemen and women joined local VIPs yesterday (MON) at the compact Cavell Gardens in Inverness that houses memorials to a long list of Highland service personnel who lost their lives in conflict.
The publicly-funded stone, organised by the Inverness branch of the Royal British Legion Scotland, was unveiled by city provost Helen Carmichael, who described the nurse as "an amazing and selfless individual".
Legion branch chairman Joe Davidson said: "It's disappointing we couldn't find anything within the council records, including the minutes, to tell us why the gardens were named after her but we thought this would be a nice gesture. What she did was extraordinary."
According to legend, her trial lasted less than five minutes. She was taken from a prison cell at 7am on October 12, 1915, tied to a post, blindfolded and shot by a German firing squad.
Nurse Cavell's last words were: "I die for God and my country."
Her execution caused worldwide revulsion, handing the British a propaganda coup, doubling the numbers of men joining up to 10,000 a week and precipitating the US's involvement in the war.
Inverness legion secretary Ian Burnett, who proposed the idea of the new memorial, said: "We now see an everlasting memorial to someone who gave her life and had no fear of dying for the cause of freedom."
During a poignant service, he read a letter from Jenny Bowman, a distant relative of Ms Cavell, who shared the family's gratitude for the new memorial.
"Perhaps her most important attribute was her boundless compassion for all humanity which would have been even more significant in our troubled world today," Ms Bowman wrote.
There were similar events yesterday to mark the solemn anniversary including a service at her final resting place of Norwich Cathedral and with the laying of two wreaths at Sacred Trinity Church in Salford where she was once a parishioner.