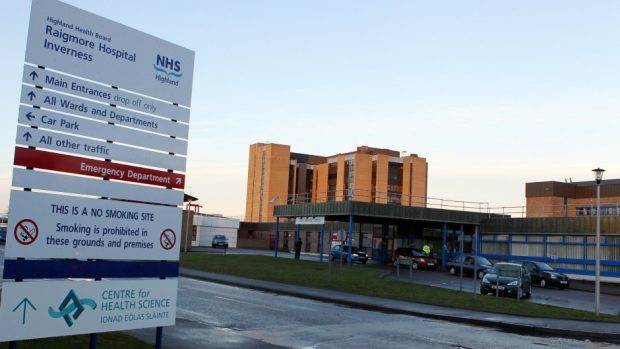 A fourth ward at Raigmore Hospital in Inverness was closed to visitors yesterday, after another patient showed signs of norovirus.
The region's biggest hospital closed completely to visitors last weekend after the winter sickness bug hit 50 patients.
It reopened on Monday after health chiefs reviewed the situation, but the three wards affected remained closed.
The total number of closed wards jumped to four yesterday after a patient in Ward 6C suffered symptoms of diarrhoea and vomiting, however it was not yet clear whether or not this was because of norovirus.
As a precaution a bay in the ward was closed allowing the hospital's infection prevention and control team to assess the situation and wait for sample results.
Wards 7C, 2C and 2A, where testing has confirmed norovirus is present, remain closed to new admissions. Ward 7C has 22 patients affected, 2C has 22, and 2A has 11.
The virus, which causes diarrhoea, nausea and vomiting, spreads in the air where someone has had diarrhoea or vomited and is extremely infectious.
Dr Adam Brown, consultant microbiologist for NHS Highland, said: "We are being cautious by suspending visiting to 6C but we know norovirus is in the community and would rather take this precaution while we assess the situation.
"Again we would stress that people do not come to hospital to visit if they have, or live with someone who has, had any vomiting or diarrhoea within the previous 72 hours. By doing this we will be able to limit the spread as much as possible.
"Hospital staff will of course be very happy to talk to visitors on the phone so they can get updates on how their relatives are. Please do not visit any of the affected wards unless by prior arrangement with the nurse in charge."
There is no specific treatment for a norovirus infection and it is not usually necessary to visit a doctor.
The best course of action is to stay at home and to drink plenty of water to prevent dehydration. People should also adhere to strict hand washing techniques to reduce the spread of the virus.