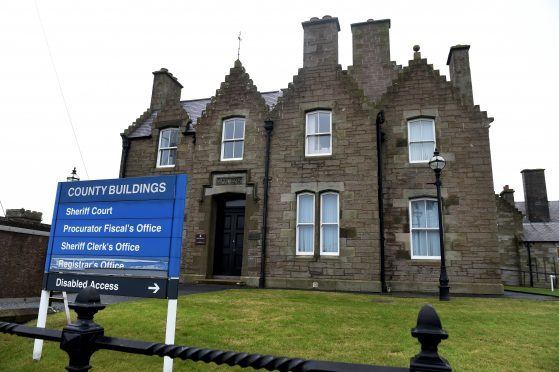 A Shetland teenager has been ordered to carry out 200 hours of unpaid work and has been banned from driving for two and a half years for a string of "bizarre" offences which resulted in him crashing a car and sexually assaulting two women.
Lerwick Sheriff Court heard that Shaun Penders, of North Lochside, had made "one really stupid mistake" when taking illicit drugs on the night of his 19th birthday in July.
Referring to a very positive social inquiry report, defence solicitor Tommy Allan told the court that his client had consumed substances without any previous experience of taking drugs.
He "effectively became a passenger" in a train of events that unfolded on the night of July 8, the solicitor said.
The court had previously heard how Penders was seen walking around wearing only boxer shorts and a jacket in the early hours of the morning after crashing his car near Tingwall, before sexually assaulting two women who had stopped to help.
Penders had previously admitted driving the vehicle on the A970 near Tingwall while uninsured and not displaying L plates. He also pleaded guilty to driving the vehicle while unfit through drink or drugs.
The teenager also admitted driving the car dangerously at the same location, driving while under the influence of an illegal substance and with no lights on during the hours of darkness, losing control while attempting to overtake another vehicle before colliding with it and damaging it.
Penders further pleaded guilty to charges of sexually assaulting two women at the scene, while he admitted behaving in a threatening or abusive manner at the Gilbert Bain Hospital in Lerwick by making sexual remarks to police officers.
Allan said the events of the night had given his client "a big fright", adding that he dealt with the aftermath in a mature manner by accepting full responsibility.
He said Penders had already paid a price for his behaviour, with his promising start to a career in the oil industry scuppered.
Penders has instead signed up to a college course, adding: "It is a chance for him to put things right and make a career of it, albeit in a different direction."
Sheriff Ian Cruickshank said the "regrettable incident" reinforced why certain drugs were illegal.
He added: "What I entirely accept is that you don't shy away from this and take full responsibility."
Penders was also put under supervision for 12 months, and will re-appear before the sheriff in three months for a review of his community payback order. He has been put of the sex offenders register for the period of supervision.