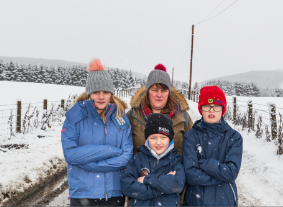 People living in Moray's snowiest area have lashed out over gritting cuts after the first blast of winter left them cut off.
The first serious snowfall of the season struck across the north-east yesterday, blanketing parts of the region and bringing disruption to motorists.
Residents near Glenlivet were forced to remain home, with their children missing school, after a tanker slipped off a road and blocked their way out.
And they fear that will happen more and more often – after Moray Council slashed gritting services around their community to save money.
Mum-of-three Kelly Stewart said: "This is the first real snowfall, and that there has already been this hassle shows that the council has cut gritting where it is needed the most."
Council leader George Alexander visited the remote community yesterday and said he had "every sympathy" with residents.
However, he said the cut would not be reviewed until next year – and only if it caused significant turmoil this winter.
In September, Moray Council's economic services committee voted unanimously to downgrade gritting on several roads in the Speyside Glenlivet ward.
The changes, which will save £15,000, came as part of an £89,000 series of cuts to the winter roads budget.
Affected families only learned of the decision when signs were put up near their home earlier this month.
Previously, the back road they live by would be gritted early in the morning to allow school buses to collect secondary children at 7.40am and primary pupils at 8.20am.
But now, during adverse weather, it will not be gritted until 10am or 11am – as well as in the evening – meaning youngsters could face falling behind in class in the event of a bad winter.
Speyside Glenlivet councillors are campaigning to have the decision reversed, arguing that the members who voted for the cuts were not made aware of the effect on residents.
Chairman of the economic development committee, John Cowe, insists that councillors were armed with the right facts when the decision was taken.
Mrs Stewart's children, 13-year-old Molly, 11-year-old Harvey and eight-year-old Jack, are worried about being cut off over the winter.
The graphic designer, who works from home, is desperate for the council to return the road to "priority one" status before the weather worsens.
She said: "It is a different world up here, because of the altitude, it is unbelievable that this is where it would be cut.
"We have always been absolutely reliant on that early gritter, if it doesn't come then the school bus doesn't come up our road.
"This just shows what can happen with only two or three inches of snow.
And Alastair Nairn, who runs a farm at Clashnoir, said the Braes of Glenlivet community was now fighting a "David and Goliath" battle against the local authority.
He added: "We feel that we have been bullied by Moray Council.
"There are several farms here dependent on that road to allow lorries up with food, and I need to get down it to feed my cattle."
The tanker, containing waste water from a distillery, skidded into a verge at 3am yesterday and blocked the rural road until almost 11am.
Mr Alexander last night stressed that the accident was not caused by a lack of gritting – as the route in question, which leads to the back road where gritting was cut, had been tended to earlier that night.
He added: "I met Mr Nairn and explained that we have difficult decisions to make, and this is just one of them.
"I have every sympathy for the community, but the situation will remain as it is this winter.
"We will monitor how often the children miss school, and if it proves to be a problem we will look at things again."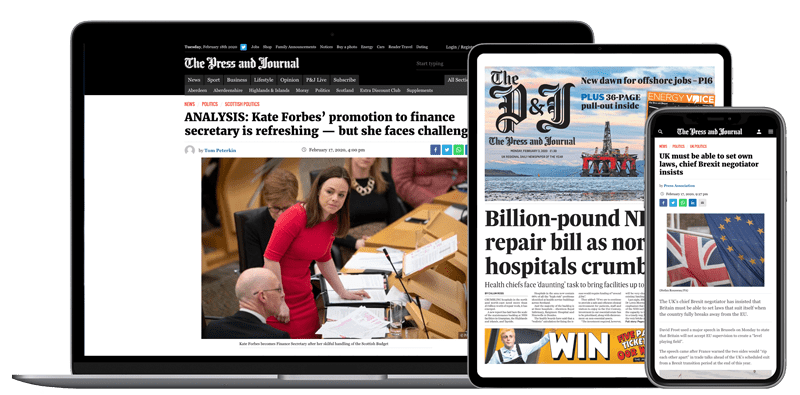 Help support quality local journalism … become a digital subscriber to The Press and Journal
For as little as £5.99 a month you can access all of our content, including Premium articles.
Subscribe