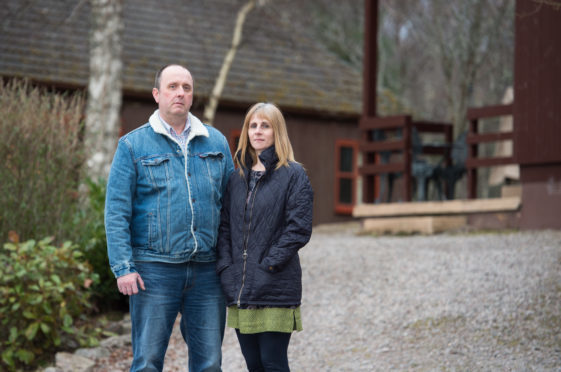 Campaigners in Moray say parts of the region are continuing to be "cheated" by slow broadband speeds.
This year the Press and Journal revealed that the area continued to lag behind the UK Government's 95% target for superfast coverage with only 85.3% of properties benefitting from the new technology – which boasts speeds of up to 76mbs.
However, despite First Minister Nicola Sturgeon visiting Tomintoul yesterday to announce investment in internet across the north, Moray was not included in the latest roll-out.
Last night, businessman Simon Giles, who runs holiday lodges near Rafford, and John Wright, who has been pressing for improvements at Spey Bay for more than two decades, claimed their communities continued to be neglected.
Mr Giles, whose connection speed peaks at about 1.2mbs, has resorted to using mobile phone technology for his visitors to Tullochwood Lodges after losing patience with broadband.
He said: "I give mobile dongles to our guests now. With the 4G service they get about 40 to 50mbs, so it's a lot faster but last year it cost me about £2,800.
"There's no other option though. At the speeds we're getting you can't stream videos or anything like that, which is what people expect now.
"It's frustrating because it's not in my control. It's got to the point now where I've stopped asking when we're going to get it. I'm glad more people are getting it, hopefully it means we're further up the list."
The Scottish Government has targeted 100% access to superfast broadband by the end of 2021.
Cabinets in Fochabers have been upgraded with the new fibre cables.
However, Mr Wright, a retired accommodation manager for the military bases at Lossiemouth and Kinloss, believes the wires run about a mile short of his Spey Bay home.
He said: "It's abysmal here. I was told we would get it before the end of last year and fortunately I didn't hold my breath.
"It's the old copper cables that come into my home so by the time the broadband gets to me the speed has dropped right down to about 5mbs.
"I'm paying for the superfast. If I paid less then I'd only get about 1mbs. It feels like I'm getting cheated at the moment."