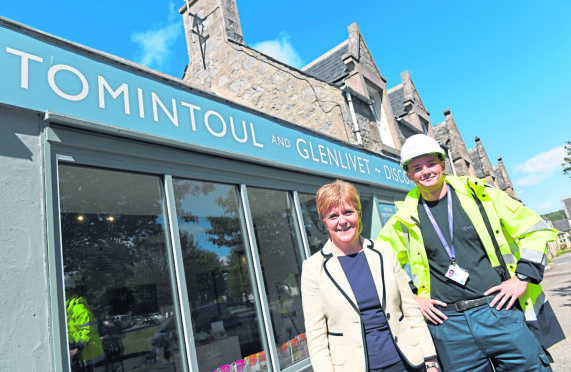 Communities across the north are to benefit from the roll-out of superfast broadband to 25,000 more homes and businesses, the Scottish Government has revealed.
Nicola Sturgeon visited Tomintoul yesterday to announce the latest expansion of fibre internet connectivity, welcomed by policians, economists and business leaders.
Skye MSP Kate Forbes said the good news for areas of Skye, the Outer Hebrides and Argyll was "as important as electricity" for the most remote parts of the country.
Ms Forbes said: "To connect an additional 25,000 premises in the Highlands to superfast broadband will be utterly transformational.
"It means more children can access online learning, more people can stay in touch and more businesses can reach a wider market."
She described it as a "digital revolution", adding: "Broadband is arguably just as important as electricity in terms of opening up opportunities for businesses and residents in rural areas."
The £146million Digital Highlands and Islands next generation broadband project is part of a £600m national scheme. It has passed its original targets of reaching 124,000 homes and businesses and this latest announcement is an additional phase which aims to deliver superfast access to almost 150,000 premises by next year.
The latest winners are Glendale and Waternish in north-west Skye, Torridon in north-west Highlands, Great Bernera in the Outer Hebrides, Kilninver, near Oban, and Kilchenzie, near Campbeltown.
Highland economist Tony Mackay said: "This new investment is certainly very good news for the areas which will benefit – and will bring a huge economic boost to these communities.
"The remote location of the Highlands and Islands has long been a serious economic disadvantage. The internet and related technology are having huge impacts on business and personal life throughout the world."
David Richardson, of the Federation of Small Businesses, described the development as "wonderful news", adding: "With excellent digital connectivity this region can participate in the modern world. Without it we will become increasingly becalmed in a sleepy backwater.
"Businesses need broadband – the fourth utility – to compete on the world stage, for everything from marketing and sales, to communicating effectively with suppliers, customers and government bodies.
"Its presence means that businesses of many types can start up in remote corners of the country that would have been well beyond their reach only a few years ago."
SNP Westminster leader and Skye and Lochalsh MP Ian Blackford added: "High speed connectivity is a vital for business, especially in remote communities.
"Visitors too expect to be able to connect their devices such as phones and tablets everywhere they go and the new service is a great step forward."
Highland MP Drew Hendry added: "This will be transformational for rural businesses, many of whom have been struggling on almost non-existent connections.
"Enhanced digital infrastructure enables the growth of small business operations, start-up business and home working – all of which is valuable, especially to a region like ours.
"It also helps support innovation and emerging digital sectors, such as our telehealth projects which allow patients to be consulted by doctors without having to travel hundreds of miles."
Skye Councillor John Finlayson said: "This is fantastic news and comes after many years of campaigning.
"This is a huge positive and will benefit locals struggling with poor internet access and in particular help businesses improve their service."
Elaine Robertson, lead councillor for Oban and Lorne, echoed his views, adding: "This is great news. I am absolutely delighted the extension is now coming to Kilninver.
"It makes the ability to live and work in our remote communities so much easier."
The Digital Scotland Superfast Broadband (DSSB) project is led by Highlands and Islands Enterprise (HIE) and delivered on the ground by engineers from Openreach.
First Minister Nicola Sturgeon yesterday announced the expansion of broadband, saying: "This is excellent news for the Highlands – delivering access to superfast broadband to more than 250 Highlands and Islands communities for the first time.
"We will build on this success and our Reaching 100% programme, backed by £600 million, will deliver superfast broadband access to every home and business in Scotland by the end of 2021 – the only part of the UK to do so."