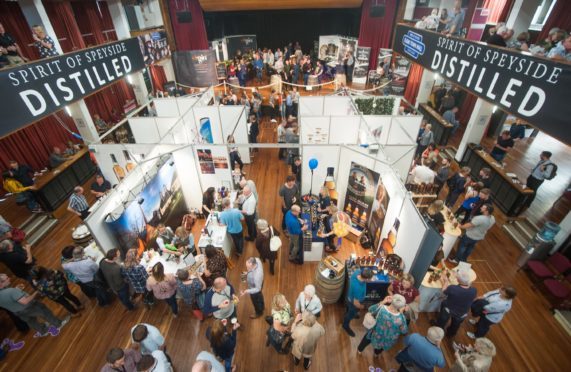 Whisky enthusiasts from across the globe flocked to Elgin Town Hall at the weekend for the third annual Spirit of Speyside: Distilled festival.
About 2,000 people enjoyed the showcase of Moray's best-selling alcoholic drinks across four sessions, with the event recording its first ever sell-out on Saturday.
Industry giants like Macallan and Glenfiddich rubbed shoulders with fledgling firms such as El:Gin and other local producers.
The event featured whisky tasting and smelling, live music and licensed bars where revellers could sample a vast array of beers, wines and spirits.
It also played host to the first ever oatcake eating world championships.
The best aspect of Spirit of Speyside: Distilled, according to the whisky makers and drinkers, is the fact that it is held locally and in the heart of one of the biggest whisky producing regions in the world.
Graham Coull, distillery manager at Glen Moray, believes the event is "brilliant" at attracting both a local and global audience.
He said: "The best thing about this festival for me is the fact it's a local event. The distilleries don't have to travel far to put on a show, so it attracts local people but also people from far away.
"Yesterday I met somebody from Australia, so people are travelling in for it but it has that kind of local feel about it."
Georgina Legg, Scotland brand ambassador for Chivas Brothers added: "It's great to do shows in Edinburgh, Glasgow, Manchester or London but to actually have a festival here at the heart of whisky country is fabulous."
This year's event drew in record numbers, with the evening session on Saturday selling out for the first time ever.
Festival chairman James Campbell described the cheerful atmosphere throughout the occasion.
He said: "We're absolutely delighted about how the event has went, we've had lots of international guests.
"We have had a record attendance this year, well up on 2017 and for the first time ever we have sold out a session.
"There's been lots of very smiling, happy faces leaving the building at each of the four sessions and people have really enjoyed the company, enjoyed meeting the great stars of Speyside who make such great whisky, gins and beers and it's just been a lovely atmosphere."