North-east air crews head to Las Vegas for world's most challenging warfighting exercise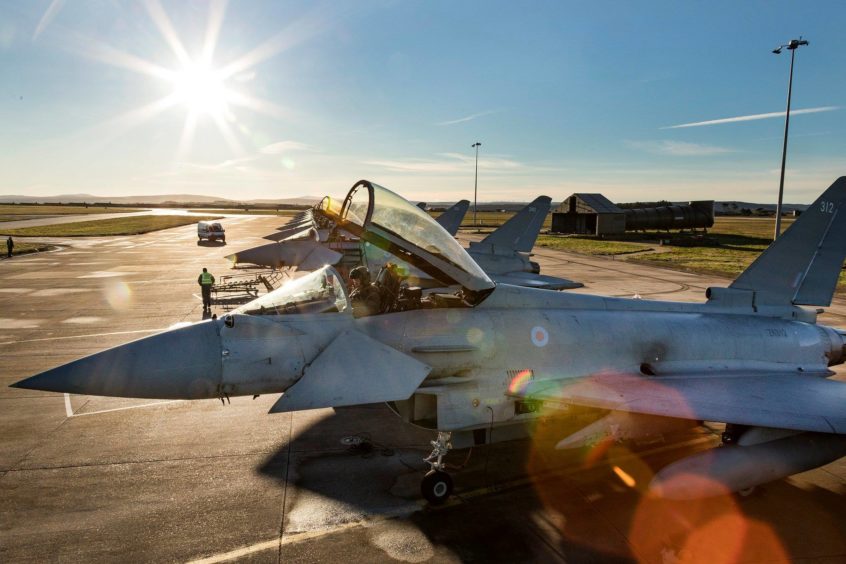 Top gun pilots from the north-east are preparing to touchdown in Las Vegas for the most challenging warfighting exercise of the year.
Typhoon jets from RAF Lossiemouth will join forces from the US and Australia at the Nellis Air Force Base in Nevada.
The complex aerial training drills from Exercise Red Flag are designed to replicate the issues facing Nato forces during operations that are held in Europe.
---
>> Keep up to date with the latest news with The P&J newsletter
---
Scenarios, which include friendly forces against hostile aggressors, will become increasingly more challenging during the three-week exercise.
The training is designed to give crews the opportunity to hone their skills in situations that they may face during deployments.
RAF Lossiemouth crews are tasked with protecting the UK from Russian intruders and between January and November last year were launched to track nine planes venturing into UK airspace.
Wing Commander Phil McConnell, officer commanding 51 Squadron, said: "Red Flag affords us the ability, not only to participate in the best air combat exercise in the world, but also to do so with other complimentary RAF ISTAR (intelligence, surveillance, target acquisition and reconnaissance) platforms in an exercise scenario representative of the issues Nato and Europe faces today.
"It's a great opportunity which we are very much looking forward to."
The first crews from RAF Lossiemouth departed the base for the US at the weekend for the exercise, which is due to begin on Monday.
In previous years the drills have also included simulating space and cyber warfare.
Later this year jets from the Moray base are due to be deployed to Iceland for the first time as part of a Nato mission to protect the air space of allies from Russian intruders and unidentified aircraft.
A replica of the Las Vegas air base's training range was created at the air battlespace training centre (ABTC) at RAF Waddington in Lincolnshire to put personnel through their paces ahead of the exercise.
Wing Commander Mark Rendall, officer commanding ABTC, described the tool as "invaluable" for mission preparations.
He said: "The safe training environment allows, in this particular instance, mission crews to hit Exercise Red Flag at pace.
"This will enable better learning and higher levels of enjoyment."