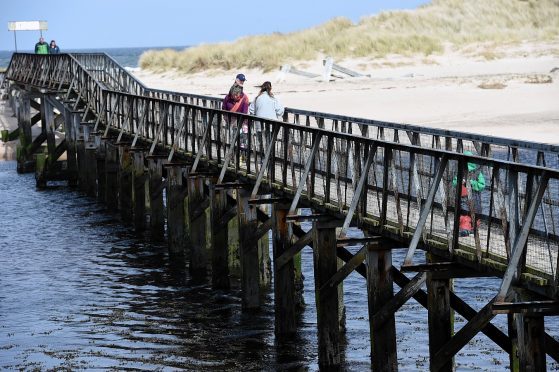 Council engineers have sealed off the bridge to Moray's busiest beach after increased use during the recent sunny weather left it unsafe.
The bridge leading to East Beach in Lossiemouth has been in a decaying state for several years.
During the recent spell of warm weather, more and more people have crossed it to reach the sands and make the most of the high temperatures.
But concerns were raised that the crumbling structure was struggling to cope with the surge in usage, and worried members of the public asked the council to inspect it.
Structural engineers said they were left with no choice but to close the picturesque crossing "with immediate effect" yesterday afternoon.
It was left open only so that those groups still on the beach could leave last night, but anyone wishing to visit the spot from today will have to walk about seven miles along the coast from Kingston.
A council spokeswoman said: "The nice weather this week has understandably led to more people visiting the East Beach.
"Unfortunately, the sheer volume of people crossing the bridge has led to deterioration significant enough to warrant closure of the bridge in the interests of public safety.
"While the bridge is not the property of Moray Council, we have a responsibility to keep the public safe around such structures."
The state of the bridge has been a concern for many years, and as far back as 2016 residents raised fears that it would be condemned as unfit for purpose if it were to face a health and safety inspection.
Uncertainty over its ownership has waylaid attempts to arrange repairs, though Lossiemouth historian Don Stewart said it was built in the early 20th century after the government granted the harbour board and the council funds for it.
Lossiemouth Community Trust commissioned a survey, which was carried out in 2017.
At that time the bridge was deemed to be "generally structurally sound" with the advice that "significant works will need to be carried out to ensure this remains the case".
A recent survey indicated that it was used 26,000 times in April alone.
Last month, the community group attached a donation box to the much-loved footbridge to help fund efforts to preserve it for future generations.
Three potential options to preserve it have been prepared, with costs ranging between £500,000 and £700,000.