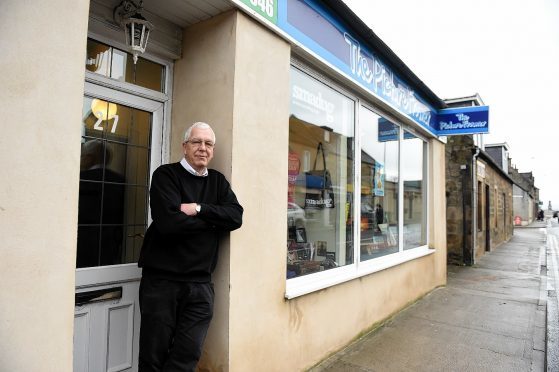 Brazen thieves have raided a Moray arts shop – by drilling holes through the cellar ceiling and climbing up inside.
Hundreds of pounds worth of stock was stolen during the break-in at Picture Framers in Elgin.
The culprits appear to have forced their way in through a cellar door at the back of the building, drilled a hole in the floor and then climbed into the workshop.
Last night the owners of the North Street business described it as "bizarre" and likened their efforts to something out of Mission Impossible.
Businessman Martin Burbridge has been left £1,500 out of pocket as a result of stolen stock and damage.
After making their unusual entry to the premises, the crooks made off with bronze statuettes worth £200, novelty tourist T-shirts worth £300, computer equipment and a charity collection tin.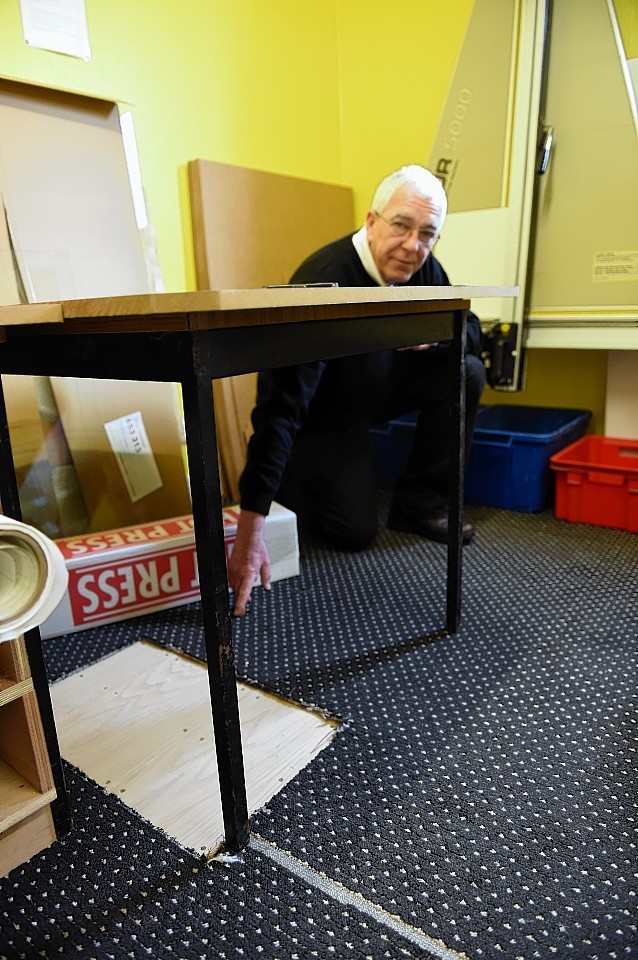 Mr Burbridge described the break-in as "bizarre", and said: "Why anyone would go to all that effort in forcing entry just beggars belief.
"The building was secure, the last thing I expected was someone coming up through the floorboards."
Raiders smashed their way into a tiny cellar at the rear end of the North Street building overnight during the week.
They then drilled several holes in the room's ceiling and bashed a gap in the above flooring big enough to clamber through.
Thieves then flung the contents of drawers across the shop floor in a suspected hunt for cash, and returned through the makeshift manhole with stolen goods.
Mr Burbridge, who has run the 30-year-old store for the past 16 years, said no-one had stepped foot in the dusty cellar storeroom for years.
He reckons it was "blind luck" that the raiders managed to drill in the right place.
He added: "The thieves cut through the roof of the cellar, then came up through the floor and ransacked the place.
"No-one would have known that cellar led to the shop, and I don't know why anyone would go to that effort to get in.
"We aren't a jewellery shop with hugely expensive stock.
"What's even stranger is that, once they got in, they didn't steal or damage any frames or artwork.
"Valuable tools were left alone, but a tape measure was stolen.
"The worst thing is that they have taken £300 worth of merchandise we stock for a local independent T-shirt printing business, which is rather distressing."
Elgin woman Sharon Davidson, 34, began the Smadug business two years ago, selling novelty T-shirts celebrating Scottish legends which have become popular among tourists.
The thieves stole garments created in honour of author Robert Louis Stevenson and 16th century clansman Sawney Bean.
Ms Davidson said: "It may not sound like much, but I do everything myself and £300 is a lot of money to me.
"I'm disgusted that people would target two small independent businesses, that are just trying to make a honest living.
"It seems a bit random that they have stolen T-shirts, and they way they went into the shop was like something from Mission Impossible."
Ms Davidson said that she remembers almost every T-shirt that she has sold locally, and would be able to recognise one if she spotted it in public.
She urged the culprits to return the stolen property to the police.
A police spokesman said: "We are investigating an incident which is believed to have happened between 5pm on Wednesday and 7.30am on Thursday, where a quantity of electronic goods were stolen.
"Inquiries are at an early stage, and we would appeal for anyone who may have information to come forward."