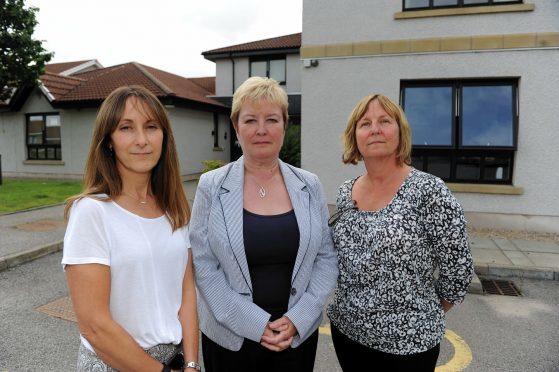 A Moray women's refuge has backed calls for a specialised domestic abuse court to be established locally.
Moray Woman's Aid helps hundreds of wives and girlfriends who have been abused every year, and believes that setting aside sittings of Elgin Sheriff Court to deal with offenders could reduce occurrences of the crime.
Charity bosses have met Highlands and Islands MSP Rhoda Grant, who fears that the prospect of appearing in open court alongside other parties deters women from reporting domestic abuse.
She believes specialised courts allow staff to be better prepared and trained for when they are presented with domestic abuse cases, and will encourage women to report it when they are targeted.
Elgin City North councillor, Graham Leadbitter, serves on the Moray Women's Aid board and said he backed the move.
Mr Leadbitter said: "We are supportive of what Mrs Grant is trying to do, helping women involved with the court process is a core part of our work.
"Having consistent support throughout that ordeal can help give victims a lot of confidence."
Last year the Elgin charity sheltered 95 women and 60 children, and was contacted by 345 women.
Mrs Grant has launched a campaign to create specialised domestic abuse courts across the north – and believes that Elgin Sheriff Court should reserve certain days exclusively for crimes of that nature.
She said: "That way, people reporting these crimes who may be there as a witness don't have to mix with people involved with other cases.
"That can be quite daunting, but with specific sittings we could make sure there was support on hand for victims.
"The thought of having to give evidence with other people around can be absolutely terrifying."
The Scottish Government has ploughed £20million into tackling domestic abuse over the next three years.
A spokesman for the Scottish Courts and Tribunals Service also stressed the work it had put into reducing waiting times for domestic abuse trial diets at Elgin Sheriff Court.
He added: "We are discussing how to establish procedures for the most efficient and victim-focused management of cases in the Grampian, Highland and Islands Sheriffdom.
"We are focused on reducing waiting times for domestic abuse cases across all courts in Scotland and are currently providing trial diets within seven weeks at Elgin."