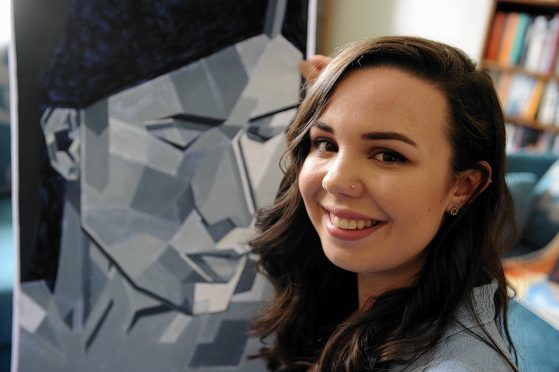 A Moray teenager who achieved perfect exam marks hopes to turn her passion for art into a career helping those less fortunate than herself.
Elgin Academy pupil Rhona Sword was one of many pupils across the region celebrating yesterday morning after they discovered they had scored the best results possible.
Moray Council confirmed 22 youngsters who sat their SQA higher exams in May had scored five A grades – the most since 2012.
Rhona scored top marks in art, music, English, maths and chemistry.
The 16-year-old will begin her sixth year next week, which she will spend perfecting her portfolio of work.
She then aims to study art therapy at Edinburgh University.
Rhona attributed her success to studying tirelessly throughout the year – not just in the weeks before her exams.
She said: "I studied all year round, I do a lot of activities but managed to revise until 9pm or so most nights.
"I do a lot of painting, and I'm especially keen on portraiture.
"Art therapy helps children and disabled people, who might struggle otherwise, to communicate their feelings."
The youngster scored her A in English after writing about The Cone Gatherers, a novel by Scottish author Robin Jenkins, poetry by Carole Ann Duffy and Shakespeare's Othello.
She added: "Most of my friends got what they wanted too, so it's nice to be able to share the joy with them."
Fellow pupil Caitlyn Gallagher also scored perfect marks in her highers and plans to become a doctor.
Caitlyn said: "I really love the idea of being able to use science to help people."
Elgin Academy headmaster David Barnett said: "Overall our fifth year pass rates are our best ever, we are delighted for everybody who did their best and got the results they wanted."
Five pupils from Forres Academy received perfect exam marks, while Buckie High School had four pupils achieve that accolade – its highest number since 2013.
Forres headteacher Carol Stuart praised the "commitment and determination" those at the school had shown.
Two Elgin High School pupils scored five A grades, the first time the school has recorded that distinction in two consecutive years since 2003.
Across S4, 49 Moray youngsters achieved six As at National 5 level.