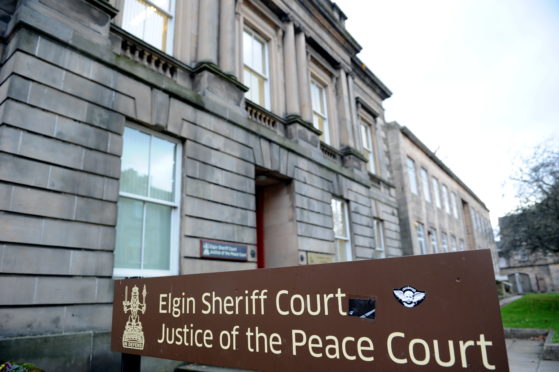 A man has gone on trial accused of "ransacking" a north-east home and stealing jewellery worth more than £100,000.
Scott Wilson is accused of breaking into the property in Buckie and making off with a hoard of rings, necklaces, watches, bracelets and earrings.
Elgin Sheriff Court heard the alarm was raised after a dog walker spotted a tiara lying outside the house on March 9 this year.
During the first day of the trial, the jury was shown pictures of drawers pulled open and their contents strewn across the floor in bedrooms and an office.
The court also heard that Wilson's DNA was found on a crowbar suspected of being used to smash a window to get inside the Cathedral Street property.
However, during a police interview, the 31-year-old, from Aberdeen, denied ever having visited Buckie or owning a crowbar.
Fiscal depute Kevin Corrins told the court homeowners Winifred and Peter Smith were on holiday in Australia at the time of the break-in, which happened on March 8 or 9.
He said the jewellery had been valued at £100,000 by Mrs Smith – who has worked as a jeweller. It is alleged Wilson also stole £2,000 in cash.
Giving evidence, forensic scientist Paula Hope said the DNA found on the crowbar, which was lying on Mr and Mrs Smith's bed, had odds of "greater than one billion to one" of belonging to someone other than Wilson.
Mr Corrins asked her: "What's the significance of one billion times more likely?"
Mrs Hope replied: "We can never say categorically where it originated from. In forensic terms we use a ceiling of greater than one billion.
"We don't use any number bigger than that but in this instance the number would be higher – but I can't say what that would be."
However, defence solicitor Alex Burn asked Mrs Hope about how much the DNA evidence could be relied upon to explain the circumstances in which it was found.
Mrs Hope replied: "We can't say how or when it was deposited. We can only say it's there."
During a police interview Wilson admitted having pawned silver at an Aberdeen store the week before his arrest on April 2.
However, Mr Burn quizzed witness Detective Constable Euan Martin on the significance of asking the question without any evidence that his client had possessed or sold jewels from the Buckie raid.
DC Martin replied: "Sometimes that is carried out by people who have stolen property. We know that it does happen."
DC Martin also confirmed no inquiries were made with the Aberdeen shop about the items Wilson pawned.
Wilson denies breaking into the house and stealing money, jewellery, a set of keys and a camera on either March 8 or 9.
The trial continues.