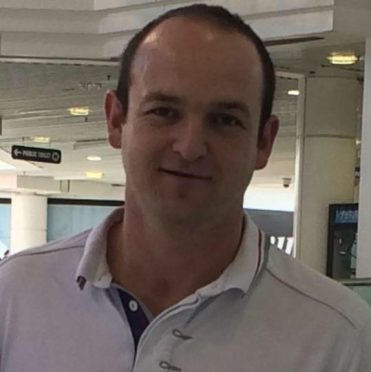 A Moray man infatuated with his ex-girlfriend hid a tracker in her car so he could follow her movements – even when he was offshore.
Thomas Bush would taunt Maree Geddes by calling her while he was on the rigs, and listing the places she had visited.
The 33-year-old slipped the homing beacon into the brake lights of Miss Geddes's car, and used computer software to monitor where she had been.
It took nearly six months for the secret device to be discovered – during which time Bush called his ex up to three times a day.
Yesterday, Bush was spared a Christmas behind bars when he appeared for sentencing at Elgin Sheriff Court.
Only the lack of an "abusive" nature to the phone calls saved him from a prison sentence.
Fiscal Kevin Morton told the court: "Miss Geddes became suspicious that Bush knew where she was. He would often contact her from offshore where he was working and essentially give her a hard time about where she was.
"Bush was challenged about how he knew where she was but he refused to give any explanation.
"It eventually came to light that Mr Bush had placed a mobile tracker within the vehicle, within the rear lights."
During persistent telephone calls, Bush, of Sandstone Drive, Elgin, would often tell his former lover how much he missed her. Despite being told to stop, he continued to call her.
Miss Geddes eventually found the secret tracker after a tip-off from a friend who had been told about it by Bush himself.
When she found the small black box with a battery and sim card concealed inside, she immediately smashed it up and called the police.
Bush initially denied any knowledge of the devise when quizzed by officers, and tried to claim it was a pager.
Defence solicitor Stephen Carty told the court the couple had gone through an "acrimonious" break-up and his client had not intended to cause upset.
Mr Carty said: "He accepts his behaviour was unacceptable. While his conduct was not abusive it was the perhaps the persistence that has led to the charge.
"As far as the tracker is concerned he accepts it was ridiculous he has done that and almost finds it hard to accept he has acted in such a way."
The court heard Bush still had keys for the car and used them to slide the device into the brake lights so Miss Geddes would not see it.
He previously admitted alarming Miss Geddes by placing the tracker in the car to monitor her movements, and by repeatedly calling her between January 1 and June 23.
He was yesterday told to carry out 225 hours of unpaid work as part of a community payback order.
Sheriff Olga Pasportnikov said: "While the behaviour was alarming, it was not abusive and on that basis I am prepared to stop short of a custodial sentence."