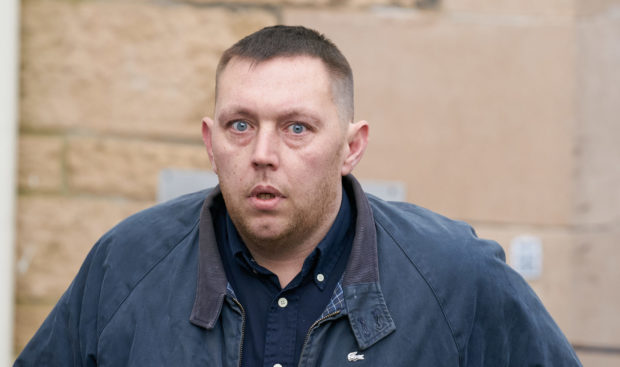 A "bungling" thief who raided a Moray restaurant before dropping all the stolen cash outside has been jailed.
Robert Lawson, from Rothes, burst through the fire exit of the Burger King branch in Elgin on October 13 last year while staff were cleaning.
The 40-year-old, who had his face masked with a hood and scarf, then grabbed hold of an employee before demanding to be taken to the safe.
Only an employee fleeing from the take-away and grabbing the attention of a passing police car brought the ordeal to an end – with Lawson dropping the stolen £1,630 outside the premises in his haste to escape.
Yesterday he was sentenced at Elgin Sheriff Court after pleading guilty to a charge of assault and robbery, which was driven by an attempt to pay back drug debts.
Sheriff Ian Cruickshank described the break-in as "bungled" – but said it must have caused "immense fear" for staff working at the time.
Fiscal David Morton explained that Lawson and another person burst through the unlocked fire exit at the fast food branch shortly before midnight.
It was revealed that a stakeout had taken place on the Burger King for a month ahead of the incident before the thieves' attack to identify how to get inside.
Mr Morton described Lawson banging on the office door to get into where the cash was kept.
One employee initially attempted to open the safe before another took over due to her being unable to do so because she was "too nervous".
Lawson eventually took possession of the £980 in notes and £650 in coins before attempting to run off with them.
Mr Morton added: "The accused became aware of police attending and made off through the rear fire door carrying the money box and money bags.
"In his haste to leave the accused dropped the entire contents on the grassy area at the side of the locus, which were recovered by police."
CCTV cameras inside and outside the building filmed the entire sequence of events.
Defence solicitor Stephen Carty described the robbery as "haphazard" – explaining his client was heavily under the influence of drugs at the time.
He added: "There is no reference to any weapon being used, but I have to accept this must have been a very frightening experience for the staff.
Sheriff Cruickshank said: "On one level this was a robbery which was naive and carried out in a bungled fashion, but there was also an element of planning.
"In a report it is mentioned that another person informed you that a watch had been kept on Burger King for a month, the result being the point of entry was advised.
"This must have caused the employees of Burger King immense fear and will have had ongoing consequences."
Lawson, who is currently remanded in custody at HMP Inverness, was sentenced to two years and one month in prison.