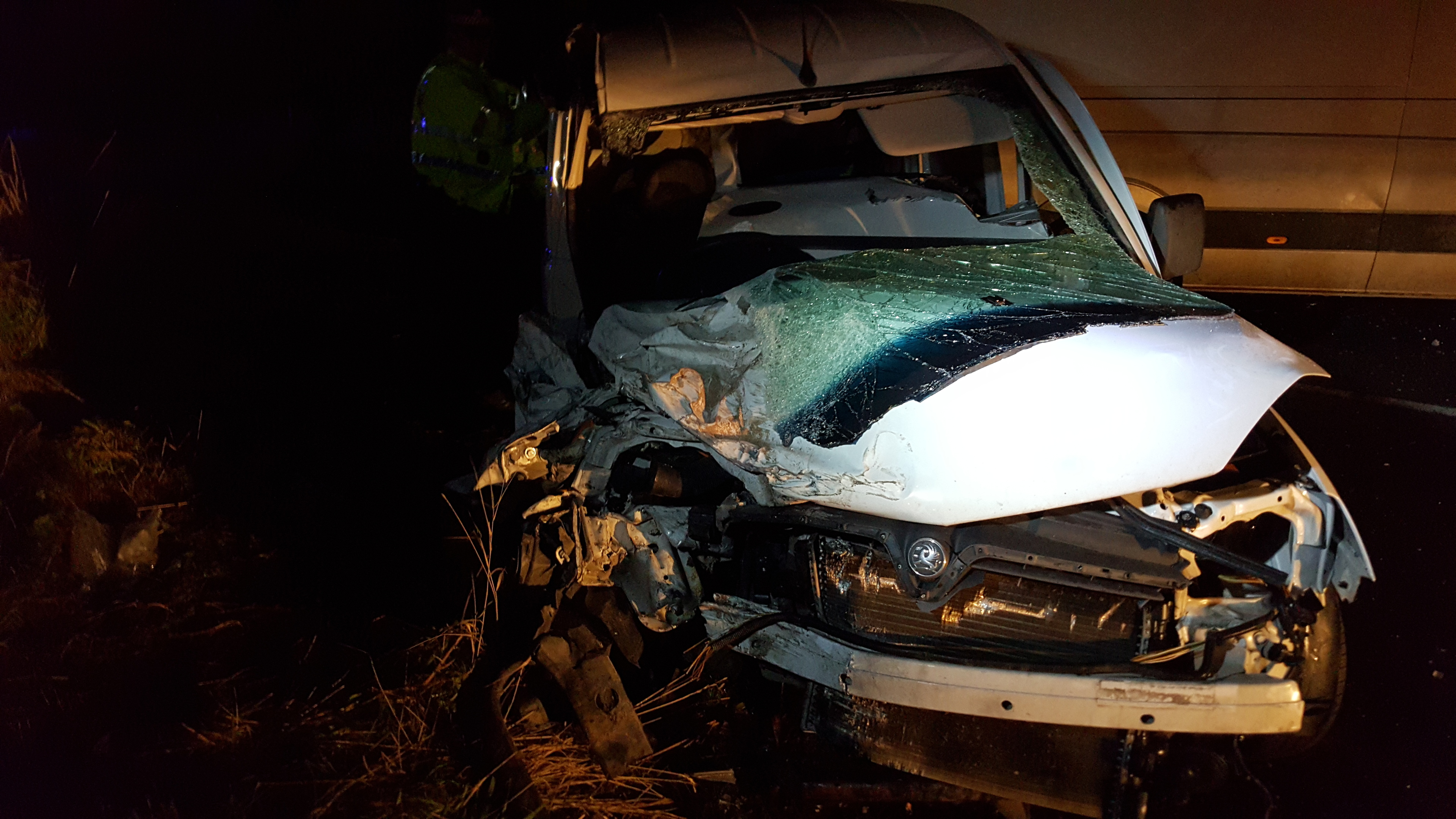 A driver had to be cut free from his vehicle last night after two vans crashed on a country road.
The 51-year-old was taken to Aberdeen Royal Infirmary with "serious" leg injuries following the horrific collision on the B9170 halfway between Methlick and New Deer.
Firefighters had to use cutting gear to remove the motorist from his white Vauxhall Combo after the bonnet and front door completely crumpled.
Two units from Maud and Ellon – with 12 firefighters on board – went to the scene.
Meanwhile, the occupants of the other van, a silver VW Crafter, were described as "walking wounded".
Their vehicle hit a telegraph pole, which toppled as a result of the impact.
The collision happened around 5.10pm.
Huge sections of the Vauxhall van had to be cut away by fire crews to free the driver.
The VW van also suffered extensive damage to its bonnet, which ended up embedded in the broken telegraph poll.
Last night, Sergeant David Pirie, of the roads policing unit, confirmed one person had been rescued from the wreckage
"One man was injured, a male driver aged 51," he said.
"He was taken by ambulance to Aberdeen Royal Infirmary. The occupants of the other vehicle, I believe, are uninjured."
Both vans were taken away by salvage crews before the road reopened around 8pm.
The route has a history of minor accidents and is known for its winding nature.
One resident, who has lived at a farmhouse near where the crash happened for years, said she had never seen a crash like it.
She said: "My husband has lived here for 80 years and this is the first time something like that has happened."
Local councillor Jim Ingram said the outcome could have been much worse.
"It's like all roads in the north-east, we have dangerous corners," he said.
"There's been a lot of accidents in the central Buchan area in the past 18 months, and this is one that's been serious enough for one poor individual.
"Accidents can happen anywhere, but this is the first one that's happened for some time. I'm just glad it wasn't a fatality.
"We were getting into a period at the same time last year where we were getting an average of one fatality every week. Each individual accident has its own set of circumstances and it can come down to a range of thing – including weather – but it's always a concern for family and friends.
"Hopefully they make a speedy recovery."
Earlier this year a motorcyclist had to be airlifted to hospital following a crash with a car on the B9170.
He suffered multiple fractures.
The last death on the route was on Christmas Eve 2014 when a 20-year-old driving a green mini-loader tractor collided with a red Vauxhall Insignia.