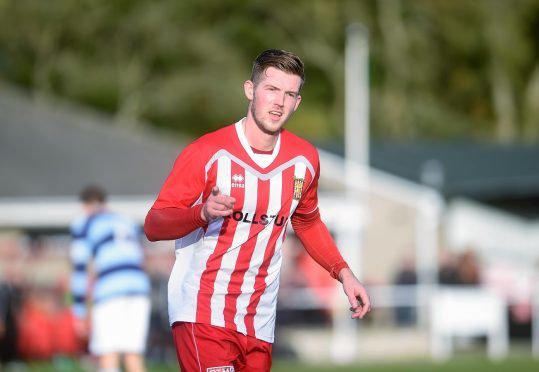 A Highland League football star has admitted assaulting a man until he fell into a coma – but claims he only did it because he was provoked.
Formartine United midfielder Jamie Masson punched James Noble during a fracas at Fraserburgh's Deejays Nightclub, causing him to fall to the ground.
The attack left Mr Noble seriously injured and doctors placed the young dad in a medically induced coma in an attempt to help his brain recover.
Since the assault the 34-year-old has been left suffering from memory loss and muscle weakness.
But yesterday the former Dons player accepted he had lashed out during the early hours of September 11, however insisted he had been provoked.
Masson appeared at Peterhead Sheriff Court yesterday accused of seriously injuring Mr Noble leaving him permanently disfigured.
Twenty-four-year-old Masson admitted to the assault but only under the defence of provocation.
Yesterday he was told that the Crown Office is not willing to accept his plea under those terms and a proof in mitigation hearing was set for next month.
Yesterday solicitor Leonard Burkinshaw, who is representing the young footballer, spoke only to confirm the guilty plea.
Fiscal Depute Kelly Mitchell outlined the Crown's position to Sheriff Andrew Miller.
She added: "Provocation is not accepted by the Crown.
"I would formally move for sentence."
Sheriff Miller told Masson: "I will in the circumstances fix a proof on the question of provocation. I will defer sentence until the outcome of that.
"Your bail is continued."
The proof hearing has been set for May 8.
Dad-of-three Mr Noble still suffers from the effects of the attack today.
And last night his family said it was unlikely he would ever fully recover.
The 34-year-old was placed in a medically-induced coma for 10 days and has had two procedures to relieve the pressure on his brain.
A spokesman for the family last night said: "He's still not himself – he never will be again.
"His memory's gone and he has no strength in his arms, and has migraines all the time.
"I just hope [Masson] gets time for what he's done. He's ruined his life."
Mr Noble's partner, Linzy Davidson, had been left praying the electrician would be able to see their children again in the aftermath of the assault.
Speaking shortly after it happened, she described him as a "decent, quiet family guy" who rarely went out to clubs and pubs.
"He would have gone out of his way to help someone," she added.
"He was never getting in trouble. If he was ever off at weekends, he would do things with the kids instead of going out.
"I can't take it all in, to be honest. I can't believe it and I don't think I ever will. I just feel numb."
Her father, Bruce, said: "It's affected the whole family."
Formartine United posted a message on Twitter just hours after the incident at Deejays last year, announcing that Masson had signed a new three-year deal.
The message has since been deleted.
Masson, of Buchan Road, Fraserburgh, has featured regularly for the club this term.
On Friday, Formartine United secretary, Bryan Braidwood, declined to comment on the player's court proceedings.
He said: "Until the club is in possession of all the facts we won't be making any comment."