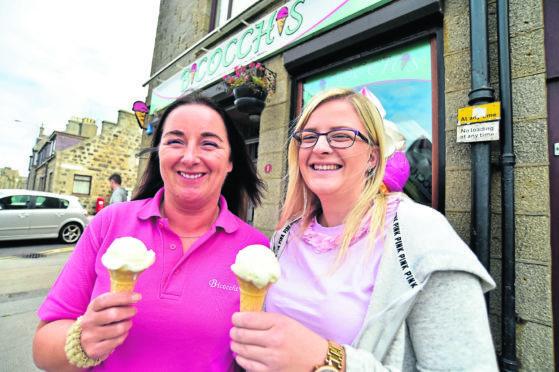 Shop staff were left bemused when a customer made a 400-mile round trip just to buy ice-cream from a parlour in a north-east fishing town.
The man told workers he had driven straight to the store from Glasgow when he popped into Bicocchis in Fraserburgh on Wednesday night.
He bought 42 one litre tubs of their original flavour ice-cream which is made on the premises.
The mystery customer told a young member of staff that his only reason for travelling the long distance from his home was to buy some of their produce.
He even had his photograph taken outside the College Bounds shop before heading south again.
Now the owner of the parlour, which has served up frozen treats to residents living in the fishing port since the 1920s, wants to know more about the man who travelled so far from home just to get his ice-cream fix.
Lorraine Reid said: "He's made a 400 mile round trip and we are trying to find out his story.
"My member of staff even took a photo of him next to our big cone outside the shop.
"Is his wife pregnant and she had a craving for Bicocchis ice-cream because she is originally from the Broch?
"Why when there is perfectly good ice cream in Glasgow would he come to Fraserburgh?
"There are plenty of decent ice-cream shops down that way, such as Porrelli in Paisley.
"It would be great to find out what the story is. I hope to track him and find out why he was looking for ice-cream here."
The ice-cream parlour is well-known in the fishing town for its sweet treats with many local residents popping in once a week to order scoops of their favourite flavours.
Locals often post photographs of their ice-cream cones on social media after visiting the store.
Some of the more unusual flavours served to customers at the parlour include gingerbread, passion fruit and watermelon.
Anyone with information about the mystery customer is asked to contact Lorraine Reid at Bicocchi's on 01346 518252.