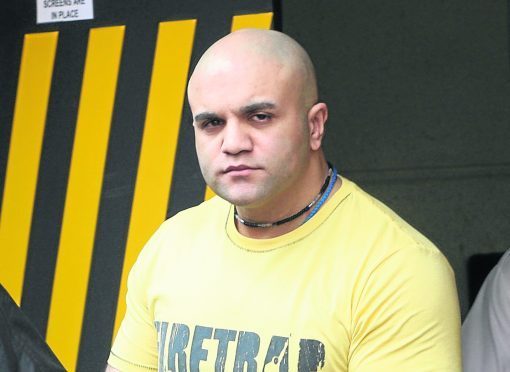 A killer who tried to sue prison chiefs for more than £1,500 after they confiscated his console games has lost his case.
But a court ruled yesterday that Imran Shahid should be paid back the £219.20 it cost him to buy an Xbox to while away his sentence at HMP Grampian.
The 40-year-old – who murdered Glasgow teenager Kriss Donald – originally tried to sue the Peterhead prison last year when he was denied a penis pump and had his games console taken away amid fears it could connect to the internet.
Shahid was eventually denied the sex aid at civil court in November, but returned to the courtroom yesterday in a bid to be reimbursed for the Xbox 360, its games, and have his legal fees paid.
HMP Grampian bosses initially agreed to help Shahid purchase the console, but took it away when it became clear that it could be reactivated for internet use if the proper equipment was smuggled into the facility.
Yesterday, it took Sheriff Christine McCrossan less than an hour to dismiss most of Shahid's case after the murderer could not provide receipts for any of the games.
She said: "This is a very unusual set of circumstances. "This was something you initiated and it appears the prison was trying to assist you.
"They then discovered something that they were not aware of at the time they gave permission which superseded everything.
"I cannot make an award in your favour without credible vouching."
Throughout the case, Shahid maintained that he spent £1,600 on games and accessories. But now the 40-year-old will now only be handed the £219.20 it cost to buy the machine from a specialist retailer.
That sum will be awarded against a debt owed to the Scottish Prison Service in its expenses case over the penis pump.
Shahid will, however, retain ownership of the games and accessories. In court, he said it was unlikely he would be able to recoup their cost.
"At no point at any stage was I told by the Scottish Prison Service to keep receipts. The only instructions I gave [to my brother] was 'can you get me these games and these accessories'," he said.
"I thought it was something I could enjoy for the rest of my sentence.
"I'm alone in the world. For them to say they're taking no responsibility is absolutely shocking."
Shahid was caged in 2006 for the violent murder of Glasgow boy Kriss Donald.
The 15-year-old was snatched off the street by Shahid and a gang of other men before being stabbed 13 times and set on fire.
Shahid's campaign against the Scottish Prison Service has been branded a "waste of time" by critics.
Solicitor Ross Fairweather, who acted on behalf of the service (SPS) during the case, suggested at yesterday's hearing that Shahid'd submissions were unreliable.
He described his efforts to recoup £3,000 in compensation as "excessive" and added: "The only part of Mr Shahid's claim that's properly vouched is the Xbox 360 console.
"There are no receipts or records to show Mr Shahid purchased these games. He has, therefore, failed to show any loss.
"There is no evidence of what actually happened. We simply do not know where the games have come from, who bought them, or how much was paid."
And last night, Liam Kerr, Scottish Conservative justice spokesman, said: "Most people will look at this case and wonder why on earth this man should be entitled to any pay-out at all.
"The attempt to sue the SPS was a complete waste of time and it is perhaps regrettable that the court felt unable to throw it out at an early stage.
"It is certainly right that this individual now pays the legal costs incurred by the SPS, and the idea that a convicted killer should be entitled to compensation because he wasn't able to play computer games just beggars belief.
"We have to remember that jail sentences are a form of punishment, people may struggle to have sympathy for those who kill 15 year olds losing access to penis pumps and game consoles."
Yesterday, a spokesman for the SPS refused to comment on the case.