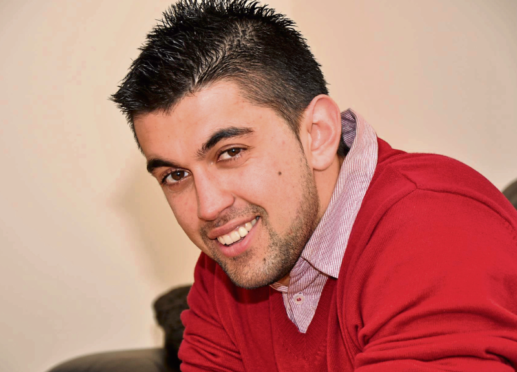 A Peterhead delivery driver clubbed his neighbour over the head with a baseball bat after her house party woke his baby son.
Furious Iliyan Simenov is said to have snapped in March last year after a heated argument on the town's Marischal Street.
The 29-year-old claimed his victim, Kelsey Hayes, had been drunk and was "mistaken" about what really happened.
That version of events was dismissed by a sheriff, however, who told Simenov he was guilty of "a serious offence".
Miss Hayes broke down at Peterhead Sheriff Court as she recounted the attack, revealing she had been so shocked she hadn't thought to seek medical attention.
"I just froze and started crying," she said.
Throughout his trial, Simeonov denied taking the bat onto Marischal Street on the morning on March 9 and then using it to hit his neighbour over the head.
Sheriff Christine McCrossan, however, found him guilty on both charges.
As a result of his attack, Miss Hayes was left with a "small bump" on her head.
The court heard she had held the party in her flat to welcome her boyfriend there to stay.
Simeonov was said to have been angry about the noise from the party – and then arguments between her and her boyfriend – which woke up his baby son.
He suggested to the court that Miss Hayes and a friend, who also gave evidence yesterday, were drunk at the time of the incident and were mistaken about what really happened.
Sheriff McCrossan told Simenov she was unconvinced by his version of events.
"I find both of the witnesses credible," she told him.
"If they had been getting together to collude a story, they would have done an awful lot better.
"To hit someone over the head with a baseball bat is very serious."
She fined him £500 for taking a weapon onto the street, and £1,250 for the assault.
Miss Hayes said Simeonov struck while she was trying to push her boyfriend out of the property and onto the street.
"I turned round to push my boyfriend away and the next thing I remember I was hit over the head with a baseball bat," she said.
"I just froze and started crying."
Asked why she did not call the police or ask for medical help following the attack, Miss Hayes said it was because she was in "shock".
"I didn't think I needed it," she added.
The court it had been Simeonov's partner, Antonia Georgieva, who had called the police.
She said he had asked her to phone them and claimed they had only ever shouted out of their flat's kitchen window to ask Miss Hayes and her friends to be quiet.
Simeonov's solicitor, Sam Milligan, argued that both Miss Hayes and her boyfriend had shouted abuse at his client in the moments before the incident.
He said: "I don't think it was only Mr Simeonov's behaviour that evening which was reprehensible."
As well as the fine, Simeonov has been forced to forfeit the baseball bat.