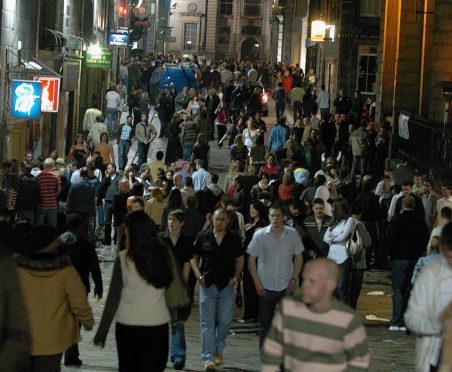 Emergency service workers across Scotland are bracing themselves for the busiest night of the year tonight – with more than 12,000 calls expected.
Police, ambulance staff and fire teams are preparing for a long night of action as people visit pubs, clubs and house parties tonight to celebrate the festive break.
But excessive drinking can result in serious violence and injuries, which places greater pressure on police, ambulance crews and hospital resources.
And communities can be put at risk by fires caused by those trying to cook after coming home from a party or night out while still drunk.
All three emergency services have appealed to the public to behave responsibly and prevent Scotland's front line from being stretched to the breaking point.
Assistant Chief Constable Mark Williams said: "Undoubtedly this is one of the busiest times of the year for all three emergency services.
"In fact, throughout December last year Police Scotland handled nearly 277,000 calls to the 999 and 101 numbers from members of the public.
"Of that number, many will be alcohol related, tying up vital time for police and the other emergency services who could be dealing with those people who really need our help.
"Every unnecessary incident impacts on our ability to help those who are vulnerable at this time of year.
"By all means go out and have a great time, but drink responsibly, look after yourself and know your limits."
The Scottish Ambulance Service's director of service delivery Daren Mochie added: "This time of year is incredibly busy for us, and we do see an increase in the number of calls we get as a result of increased alcohol consumption.
"Please think hard before you call us, do everything you can to make it easy as possible for us to determine the nature of your call and if we do need to send a response, then allow us to do our job when we arrive as unhindered as possible."