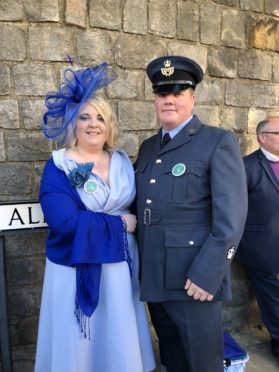 Tayside resident Scott Ross was among the lucky 1,200 guests invited into the grounds of Windsor Castle for the royal wedding – and he described his day as a "once in a lifetime experience."
The 29-year-old from Brechin is a Warrant Officer with the Air Training Corps. Having joined at 13 years old, he has worked his way up the ranks to be Officer Commanding 2422 Squadron in Arbroath and received the Lord Lieutenant's Certificate for Meritorious Service in 2017.
On Thursday he drove south with his wife, Nicola, stopping overnight in Gretna to break up the journey. The couple also managed to secure accommodation at a cadet training centre in Bramley, Hampshire.
Mr Ross said the most enjoyable part of the day was being stood within a few yards of the royals and celebrity guests – including David and Victoria Beckham, George and Amal Clooney and James Blunt – as they arrived at St George's chapel in the morning.
As the temperature soared throughout the day, the couple sat and relaxed while listening to the service on loud speakers outside the chapel. The special guests were also handed themed "goodie bags" containing items like gold coins, shortbread and an order of service.
Speaking yesterday, as they drove back home, he said: "It was a once in a lifetime experience and there is unlikely to be a royal wedding for another couple of decades. It's the most memorable experience I will ever have. I don't know if anything will ever top it.
"Being there made me feel like I am doing something right, that I am being noticed by someone outwith the organisation, with the Lord Lieutenant recognising the work we put in."
Mr Ross said he and his wife left for the Windsor Castle grounds at 4.30am on Saturday morning, anticipating huge crowds.
But they had a hassle free trip and arrived at the gates more than two and a half hours before the first wedding guests started arriving.
They were among the first 10 guests to arrive.
Mr Ross said he was left "smiling and giggling" at parts of the wedding address from American bishop Michael Curry. He added: "I think he made the whole thing a bit more enjoyable – it was something a bit different for a royal wedding."
Also invited into the castle grounds was Morag McKenzie, a stalwart of Arbroath Pipe Band and Arbroath's Citizen of the Year in 2017. She has been part of the pipe band for 44 years and has been teaching bagpipes for over 30 of these years.
Ms McKenzie has been working in the voluntary sector in Angus for 15 years and currently works for an organisation called the Learning Tree Partnership, which supports people with a learning disability to gain skills in customer service through selling books and CD's.