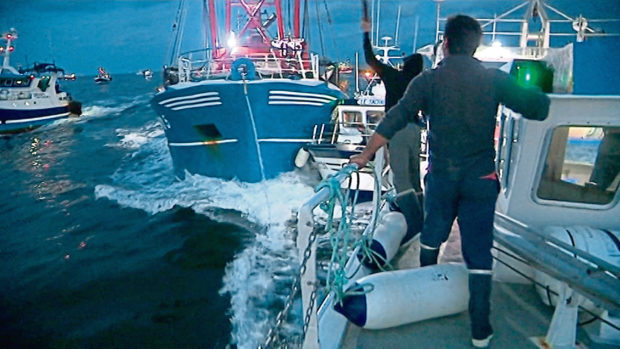 Crunch talks will take place today aimed at ending the scallop row deadlock in the English Channel.
Last week a north-east trawler was one of five bombarded by flares and rocks by around 35 French vessels in the Baie de Seine off the coast of Normandy while its crew tried to catch shellfish.
Current regulations stipulate that British ships can legally fish in the waters all year round, but the French are banned from the area between May 15 and October 1 to help preserve stocks.
Watch north-east trawler bombarded with flares and rocks as shellfish war turns violent
In 2013 larger British vessels agreed to avoid the stretch out of fairness, receiving additional fishing opportunities in the process.
But the understanding broke down earlier this year when the French industry requested that it be extended to smaller boats as well.
The violent dispute led to pleas from north-east skippers for protection from the Navy.
On Wednesday officials from both the UK and France met in London to thrash out a new agreement and prevent further clashes on the water.
During the lengthy discussions the French were understood to have expressed "regret" at what had happened.
Much of the conversation revolved around a proposal that no British vessels will fish for scallops during the window and that the smaller boats will receive compensation as a result.
British and French fishermen celebrate progress in scallop war talks
The talks will resume tomorrow, this time in Paris, to decide what these sums may be.
Following the meeting Jim Portus, chief executive of the South Western Fish Producers Organisation, said he was "very pleased" at the prospect of a deal being struck.
He said: "The French are in a hurry to make sure that it happens because what they don't want either is for there to be another conflict."
But he warned: "Quite frankly if it's not good enough on Friday, it will be rejected."