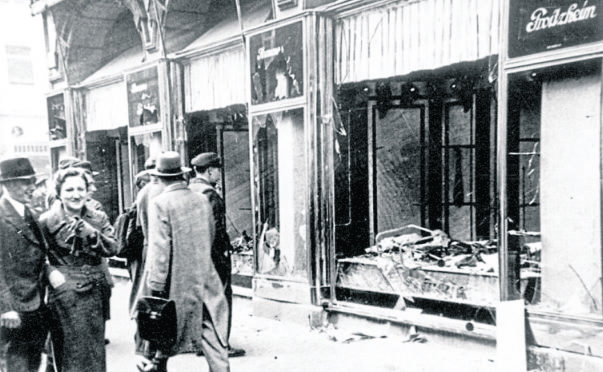 It was one of the most shocking acts of antisemitic violence in the build-up to the Second World War.
And now the Church of Scotland has revealed how one of their ministers compiled a dossier, exposing the "depths of human misery" inflicted on Jewish people, during the German pogrom 80 years ago today.
---
>> Keep up to date with the latest news with The P&J newsletter
---
The work contains "truthful observations and trustworthy accounts by eye witnesses" about the impact of Kristallnacht, a maelstrom of Nazi-orchestrated violence on November 9 and 10, 1938.
The name refers to the broken windows of Jewish homes, businesses, hospitals, schools and synagogues which were ransacked across Germany, Austria and elsewhere.
The typewritten document was compiled two months after the so-called Night of Broken Glass by Rev Donald William Mackay, who was minister of the Scots International Church in Rotterdam from 1934 to 1940.
Unearthed in the World Mission Council archive at the Church of Scotland offices in Edinburgh, the document has now been made public for the first time.
It contains details of the scale of the assaults carried out on the Jewish community and the preface states: "What really did happen is worse by far than anything described in these pages".
Rev Ian Alexander, CoS secretary to the World Mission Council, said: "It is extraordinary to unearth a document which shares first-hand knowledge and experience from people living through these desperate events.
"It lays bare the depths of human misery inflicted upon those not seen as equal or as worthy.
"As we live through days when different faith groups are targeted, and those seeking asylum are increasingly demonised, it is a salutary lesson of the need to stand alongside those being persecuted."
Mirella Yandoli, the church's interfaith programme officer, said it remained essential to tackle the blight of antisemitism.
She added: "This archive is a timely reminder, both of what happened 80 years ago and also the responsibility of the Church to act and draw attention to this hatred then and now.
"We need to take this anniversary as an opportunity to reflect on how easy it is to fall into the position of bystander and do nothing but lament.
"I view it as the Church's responsibility to examine and challenge antisemitism and prejudice in our own organisation and continue to look at how we can call it out in the public sphere.
"Collaborating with other faiths and Interfaith Scotland on the topic of hate speech and crime in the youth or parish setting, has become a key priority.
"The most important thing we can do is to listen to those who are affected first before we decide how we can be an ally."
'Jewish communal life in Vienna has been blotted out'
German officials claimed that Kristallnacht erupted in response to the assassination of German diplomat, Ernst von Rath, by Polish Jewish teenager Herschel Grynszpan in Paris.
The purge was instigated primarily by Nazi Party officials and members of the Sturmabteilung (SA) – known as the Brownshirts – and the Hitler Youth.
The following account in the newly-released Church of Scotland document, is from one Jewish businessman in Berlin.
He said: "At the stroke of 3am, I was suddenly awakened.
"There is a Jewish shop in the house and both its shop windows were broken and the goods destroyed.
"I also heard the clashes of shop windows in the neighbourhood.
"An hour later, there was another onslaught – again a bombshell of stones upon the remnants of the window glass and that of the goods.
"About 6am, a third gang appeared to complete the havoc. I could not doubt this was an action carefully planned and executed by the SA, SS and Hitler Youth."
Another account related to the treatment of elderly people.
It stated: "Old and ill Jews, on complaining of stomach aches etc, are taken to the patients room in Concentration Camp X.
"There, they will be forced to take one to two pints of castor oil, then they are taken into the open air and told to stand erect.
"No matter what kind of weather, they will have to stand up to 10-12 hours."
A Scandinavian Christian doctor reported a violent incident in Berlin.
He said: "On riding a car through Fasanenstrasse, a Jew was suddenly set upon by a gang of youths and severely beaten up. An onlooker was also attacked.
"This was perpetrated not only by the common mob, but also by men wearing the badge of the Nazi Party."
A report from Austria testified to the destruction of synagogues.
It stated: "Jewish communal life in Vienna has been blotted out. Some 60 synagogues have been rendered unfit for use as a result of dynamite attempts, fire and demolition."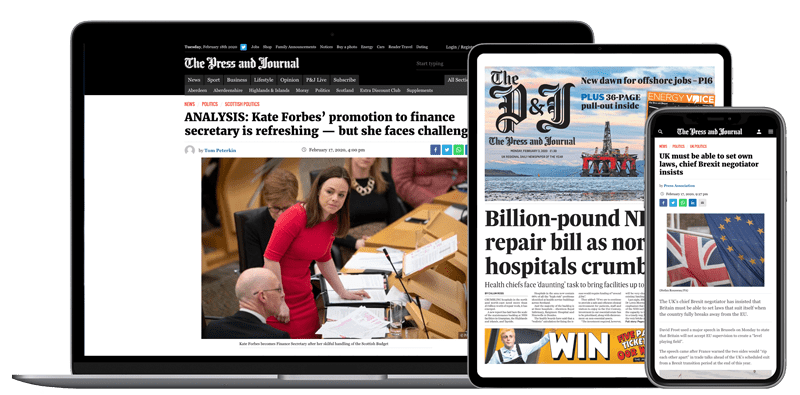 Help support quality local journalism … become a digital subscriber to The Press and Journal
For as little as £5.99 a month you can access all of our content, including Premium articles.
Subscribe