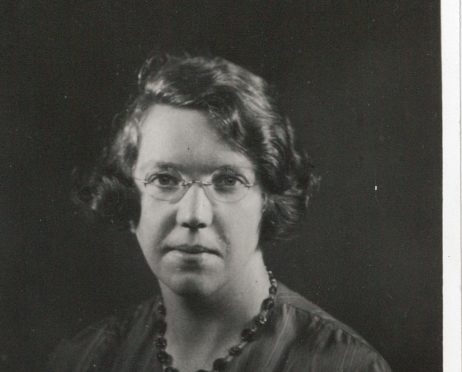 A Scots school matron became a heroine of the Holocaust, saving scores Jews from the gas chambers by helping them emigrate to Britain, a new book reveals.
It chronicles the exploits of Jane Haining, who assisted Hungarian women in securing jobs as domestic servants five years before she was taken to the Auschwitz Birkenau extermination camp where she died in 1944.
Miss Haining was arrested by the Gestapo 75 years ago this month on eight charges, including spying, working with Jews – and listening to the BBC – while at the Scottish Mission School in Budapest.
The revelations about the kindly, but strict "mother figure" matron, who survived in the camp for just two months, have emerged in a new biography of her remarkable life which is being launched in Glasgow tonight.
Author Mary Miller has cast fresh light on the "ordinary, yet extraordinary" woman from Dunscore in Dumfries and Galloway who refused to abandon "her" girls and laid down her life to protect them.
She said: "Jewish refugees from countries swallowed up by the Nazis were pouring into Budapest, still believing the situation of Jews to be less life-threatening in Hungary than in the surrounding countries.
"The mission believed by then that the only way to save the Jews was through emigration and by February 1939, it was putting on courses in farming, cattle breeding and other subjects to help refugees to get jobs abroad.
"Jane Haining taught domestic management and gave lectures on social life in Britain after travelling to Hungary in 1932. She refused to return home after war broke out in 1939, despite advice from Church of Scotland officials.
"As she said: 'If these children need me in days of sunshine, how much more do they need me in days of darkness?'."
The hardback book, entitled Jane Haining – A Life of Love and Courage, demonstrates that she was "outraged" by the mounting antisemitism in Europe.
There was one instance where she wrote about a mother of twins who broke down in her office.
Mrs Miller said: "The woman 'was at the stage when she was thinking of adding some poison to their food and ending it all – and now help had come to her from a quarter from which she had never looked for it'.
"Jane's own outward calm and courage, meanwhile, sustained the children in her care."
The book highlights one of Miss Haining's letters in which she remarked: "What a ghastly feeling it must be to know that no one wants you and to feel that your neighbours literally grudge you your daily bread.
"We have been enabled even in a small measure, to lighten the lot of an oppressed people and to provide an oasis in a troubled world where they can be sure of a friendly reception."
The author, whose husband Rev John Miller was the Moderator of the General Assembly in 2001-02, added: "When the publishers offered me the opportunity to write a biography of Jane Haining, I felt both privileged and excited.
"I had come across part of Jane's story a few years before and, as someone who has been responsible for many groups of children over many years, I understood the absolute rightness of what she did.
"I pondered whether I would have had the courage to do the same."
Following the outbreak of war in 1939, Miss Haining spent years protecting the pupils from the increasing danger facing Jews in Europe and matters came to a head in March 1944 when the Nazis invaded Hungary.
She was betrayed by the Mission cook's son-in-law, a future SS soldier called Schreder, whom she caught stealing scarce food meant for the girls.
Miss Haining was arrested by "German officers" in April 1944 and former pupil Agnes Rostas, who witnessed the incident, revealed that her haunting last words to the sobbing children were: "Don't worry, I'll be back by lunch".
But she never returned to the Scottish Mission, where she worked between 1932 and 1944, and died in the notorious camp in Nazi-occupied Poland, aged just 47.
Mrs Miller said: "I was forced to realise that, among other things, this is a book about the Holocaust and that, in the story of one woman, we recognise the individuality of each of the six million innocents who were murdered.
"Jane was an ordinary person who became extraordinary through her love and courage and eventually laid down her life for her commitment."
Miss Haining is the only Scot to be officially recognised at Yad Vashem, the World Holocaust Remembrance Centre in Israel, and is the recipient of a Hero of Holocaust medal from the UK Government.
The new book will be published by Birlinn on April 11.