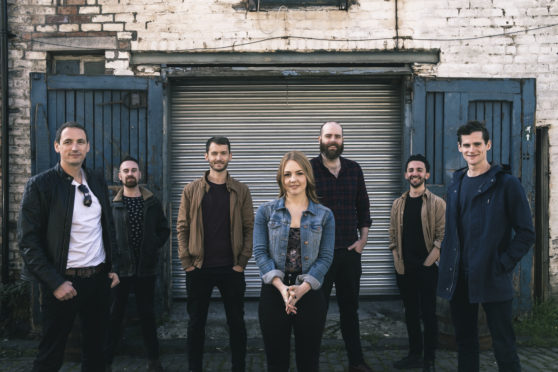 Multi-award-winning ceilidh band Manran will play Oban's Corran Halls on January 2 – unveiling a local woman as their newest member.
The homecoming gig is set to be one to remember for Kim Carnie.
Manran will play Oban hot off the back of performing as part of BBC Alba's Hogmanay Show, Ceilidh Na Bliadhn' Uire, aired live on the channel this New Year.
The year 2020 marks 10 years at the heart of the Scottish traditional music scene for the folk super group. Having been in high demand as a live act across the world with shows in more than 30 countries, Manran are looking forward to playing to Oban audiences in January.
The band is celebrating its anniversary year with the unveiling of two new band members in the shape of Gaelic songstress Kim Carnie and guitarist Aidan Moodie. The new line-up will be unveiled for the first time during their festive tour.
Joining Manran in Oban will be long-time friend of the band the Fergie MacDonald Big Band.
Manran's accordion player and founding member Gary Innes, who also presents BBC Radio Scotland's longest-running radio show Take The Floor, said: "We're really looking forward to playing Oban and to see fans old and new at the Corran Halls join us for a fantastic night of live music during the festive period. It's been an amazing couple of years for the band and we can't wait to celebrate our 10th year in style in 2020."