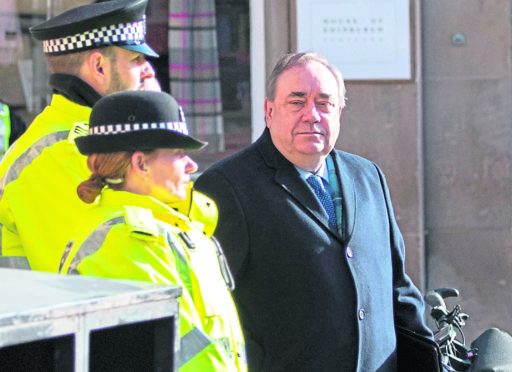 Alex Salmond's defence team has accepted the former first minister could be "inappropriate" at times – but stressed he was innocent of criminal allegations.
Yesterday Gordon Jackson QC addressed the jury on the 10th and final day of the trial at the High Court in Edinburgh before the jury of nine women and six men began their deliberations shortly before 2pm yesterday.
Mr Jackson accepted Salmond could be "demanding".
He said the former first minister could "shout and swear" at times during his term in office and pointed to descriptions of him as a "touchy-feely" person.
However, he told the jury the allegations that have been made against the 65-year-old "did not make sense" – saying all of the women who had made complaints came from a "political bubble" and that something "did not smell right" about how the supposed incidents had ended up in court years after they are alleged to have happened.
Mr Jackson also stressed there were no witnesses to any of the 13 reported events. Salmond denies all charges.
During his closing speech, Mr Jackson quoted Woman H, who told the jury she wished Salmond had been a "better man" when giving evidence.
He said: "If, in some way, the former first minister had been a better man then we wouldn't be here – none of us would be here.
"I'm not dealing with whether or not he could have been a better man, because he certainly could have been. I'm in a court of law dealing with whether he's guilty of serious criminal charges."
Mr Jackson argued against the prosecution's description of Salmond behaving with the course of conduct of a "sexual predator", describing the suggestion as "melodramatic".
He instead suggested there was a "pattern" of women who did not consider incidents serious enough at the time to report but had years later come forward together to speak out against the former first minister.
He said: "It's the same pattern over and over and over again. It's scary.
"There's something going on. I can't prove it, but I can smell it. It's a murky world."
He also suggested several of the reported incidents had been subject to "revisionism" between statements given to the police and evidence given during the trial. During his final remarks, Mr Jackson told the jury that Salmond had  a 30-year career in public life during which time he would have had dealings with "thousands" of woman – stressing no complaints had been made until now.
He said: "I don't know if you like him, or don't like him. I do know that he's entitled to the law to protect him. He is entitled not to be convicted of anything unless there's clear evidence.
"This has gone on long enough… It's time I say, to put it bluntly, to bring it to an end."
The jury was sent home and will resume deliberations on Monday.