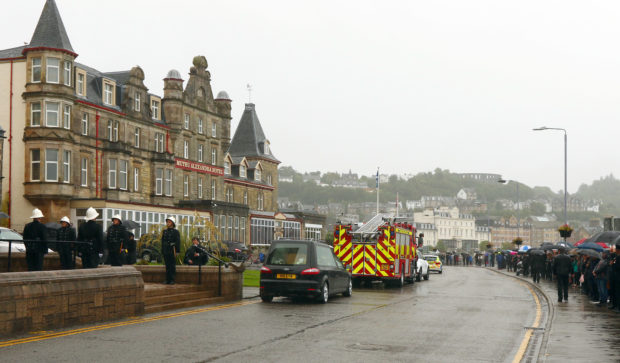 A fire engine and crew formed a guard of honour as scores gathered in Oban to pay farewell to a hero firefighter who died after a battle with motor neurone disease (MND).
They lined the streets leading to St Columba's Cathedral where the funeral of Brian MacDonald was held.
Mr MacDonald, who was diagnosed with the degenerative disease two years ago, died aged 43 on Wednesday, July 15.
Following his diagnosis, Mr MacDonald relocated back home to Oban from Glasgow, having been forced to call time on his 13-year career with the Scottish Fire and Rescue Service.
Tributes as Oban firefighter loses battle with motor neurone disease aged 43
Mr MacDonald was determined to battle MND and sought a place on a pioneering clinical trial to beat the devastating illness, vowing to return to "the best job in the world".
Sadly, the outbreak of Covid-19 put a halt to clinical trials, before Mr MacDonald's condition deteriorated in the weeks prior to his death.
Described last week by as a loving family man, his popularity was clear as large crowds gathered outside the church to say their final farewells.
Restrictions under the current pandemic have meant fewer people being able to attend services, with dozens ignored the pouring rain to pay their respects.
Last week, Mr MacDonald's sister, Tia MacDonald, said her brother would have wanted the biggest send off possible.
Paying tribute to her brother, she said: "Brian was the type of guy who would go out of his way to do anything for anybody.
"He still had a smile on his face towards the end, cracking jokes with the doctors in the hospital.
"He was so loving and he was a great brother, a fantastic uncle to his nieces and nephew and for his son John. He would do anything for them.
"He got engaged in the last few months to Michelle and she was so good for him.
"He will be so missed."
His sister also praised the care he had received, saying: "It was brilliant. Jessie his carer really went that extra mile for him."
Mr MacDonald's career as a firefighter led him to attend some of Scotland's highest-profile incidents.
He was part of the emergency response sent to the Clutha bar on November 29, 2013, after a police helicopter plummeted through its roof, killing seven people and all three crew members.
He also responded to the George Square bin lorry crash in December 2014, which killed six and injured 15 others days before Christmas.
Chief Officer of the Scottish Fire and Rescue Service, Martin Blunden, said: "Brian was a unique individual – a real connector of people, truly passionate about being a firefighter and, above all, a family man.
"He will be sorely missed by his family, friends and former colleagues in the service."