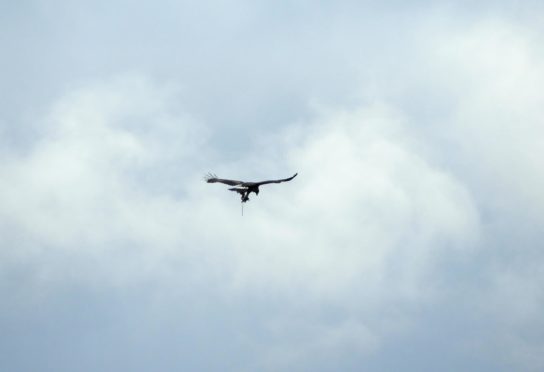 A charity campaigning to see tougher punishments for those caught illegally killing birds of prey say a third of all crimes in 2019 took place in Scotland.
The Royal Society for the Protection of Birds (RSPB) says self regulation of the grouse shooting industry has failed and urgent action is needed to prevent further illegal killings of birds of prey.
That warning comes after the society's latest Birdcrime report listed 85 confirmed incidents throughout the UK last year, with 28 of the victims in Scotland, and of those three in Aberdeenshire and Moray.
Goshawks, hen harriers, sparrowhawks and buzzards all met their deaths through shooting, illegal trapping, and poisoning with banned pesticides.
Ian Thomson, RSPB Scotland's head of investigations said: "The very clear pattern of bird of prey persecution cases occurring on Scotland's driven grouse moors has been repeated year after year, and as Birdcrime 2019 outlines shows no sign of abating.
"Indeed, even during the Covid-19 lockdown this year, these crimes have continued, as has the predictable campaign of denial and misinformation from a grouse shooting industry that has demonstrably and repeatedly failed in its attempts at self-regulation."
The charity claims that despite Scotland's birds of prey species being protected for decades, improvements in legislation and other government initiatives are failing.
In 2018 there were 12 confirmed incidents in Scotland, and this year's data shows that criminal activity is almost exclusively linked to land managed for intensive driven grouse shooting.
Mr Thomson added: "The recent recovery of a satellite-tag from a golden eagle – which disappeared on a Perthshire grouse moor in 2016 – wrapped in lead sheeting and thrown into a river, is unequivocal proof not only of serious, organised crime, but also the lengths to which the perpetrators of these offences will go to dispose of evidence and cover up these crimes.
"It is long overdue the Scottish Government ends this appalling cycle of destruction of our natural heritage, by enacting a licencing system for grouse shooting, with immediate effect."
There was just one criminal conviction for the illegal killing of birds of prey in the whole of the UK last year – that of  a gamekeeper in the Scottish Borders.
Other high profile cases in Aberdeenshire include a golden eagle seen flying over a grouse moor with a trap hanging from its leg in August 2019, while  a white-tailed eagle was killed by poison in April.