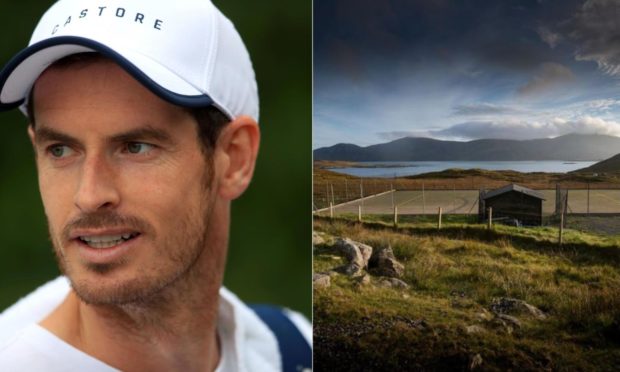 Sir Andy Murray has revealed his ambition to visit the island tennis court reputed to be the world's most remote.
The former world number one said he was intrigued by the Outer Hebrides and wants to visit the Isle of Harris, and the spectacularly located court in Bunabhainneadar.
The court, which enjoys ace views over Loch Tarbert, was built in 1998 after a fundraising campaign.
It serves the island's 2,000 strong population as well as tennis tourists who travel from all over the world to play the remote venue – including, in the past, Murray's mum Judy.
Murray, 33, said: "I've always been intrigued by the Outer Hebrides and some of the isles in the north.
"I'd love to check out the Isle of Harris, it's supposed to be incredible and it's also home to Bunabhainneadar where they have a tennis court, which they say is the most remote in the world, and it looks spectacular."
Interviewed in the November edition of Scotland magazine, Murray, who was raised in Dunblane, Perthshire, but now lives in Surrey, also reveals what he misses most about Scotland.
Asked where he likes to spend time when north of the Border, he said: "I rarely get the chance to venture back to Scotland. However, whenever I do get the chance, I like to go up and visit my family in Dunblane. Both my parents still live in the area and it's always nice to be back.
"Call me biased but Dunblane and the surrounding area really is a hidden gem."
Last year, travel guide Wanderlust named Bunabhainneadar eighth on its list of the world's most amazing courts.
It was topped by The Enchantment Resort, Arizona, followed by a court atop the Burj Al Arab Jumeira in the United Arab Emirates and a floating court in Doha, Qatar, the spectacular Il San Pietro di Positano on the Amalfi Coast and a surface inside the Church of San Paolo, Milan.
The court, built about 20 years ago and owned by a charity, is open to the public and has equipment available for hire.
Tim Henman was another famous visitor.