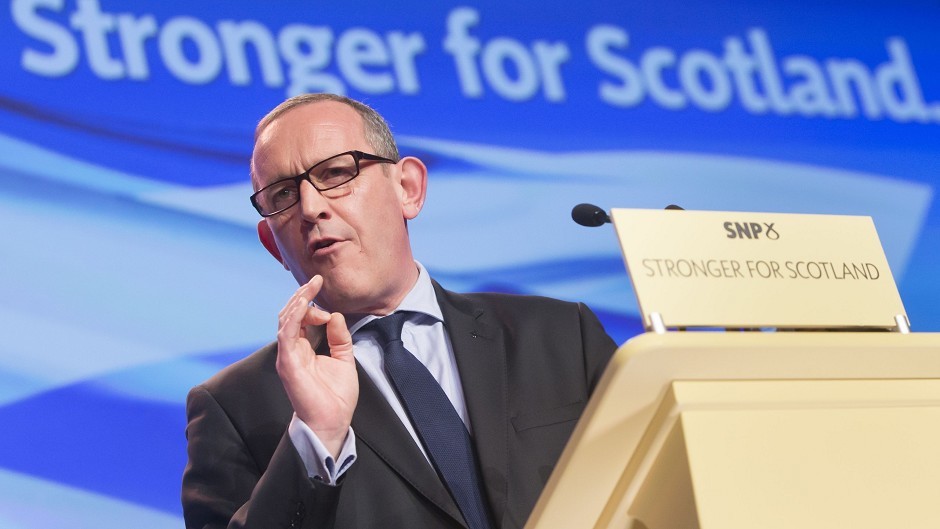 The prime minister was last night accused of snubbing Scotland in his conference speech after it "barely merited a mention".
SNP deputy leader Stewart Hosie also condemned David Cameron's confirmation of his intention to press ahead with Trident renewal.
The Tory leader quickly came under fire from Labour as well, who insisted the "personal attacks" on Jeremy Corbyn were a "sure sign" he is "rattled".
Union boss Len McCluskey said Mr Cameron's legacy would be "all too visible" to those on low wages who are "bracing themselves for the next swing of the Conservative cuts axe".
But CBI director general John Cridland claimed his vision for an even greater Britain was one businesses would "stand right behind".
Reacting to the speech, which was preceded by a video chronicling the Conservatives' journey to electoral victory in May, Mr Hosie said: "Scotland barely merited a mention in the prime minister's speech.
"But he did have one pledge for Scotland when he made clear that is he is determined to press ahead with the obscenity of spending £100billion on a new generation of nuclear weapons on the Clyde by pledging to renew Trident.
"Before parliament has even had one vote on its renewal, Mr Cameron wants Scotland to continue as Westminster's nuclear dumping ground for the next 50 years."
He also said Mr Cameron's one nation rhetoric was "fatally undermined" by the reality of the UK Government's policies, particularly the cuts to tax credits.
A spokesman for the Labour leader added: "The fact that David Cameron used his speech to make personal attacks on Jeremy Corbyn is a sure sign that he is rattled by the re-energisation of the Labour party.
"With cuts to tax credits and a continued failure on housing, his claim that the Conservatives are the party of working people is being exposed."
Ukip leader Nigel Farage denounced the PM's speech as offering "no clear strategy" to tackle housing and immigration.
But foreign secretary Philip Hammond insisted Mr Cameron had been very clear in expressing what he wanted to achieve for the country by 2020.
He said Mr Cameron had outlined how the Tories would serve Britain while Labour is "lurching to the left".
Chris Keates, general secretary of teaching union NASUWT, said nothing had come out of the conference to offer any comfort to the "millions of children and families" who had seen their public services "cut drastically" since 2010.
But John Longworth, director general of the British Chambers of Commerce, said the prime minister had "set the bar high" and that he looked forward to seeing the results.