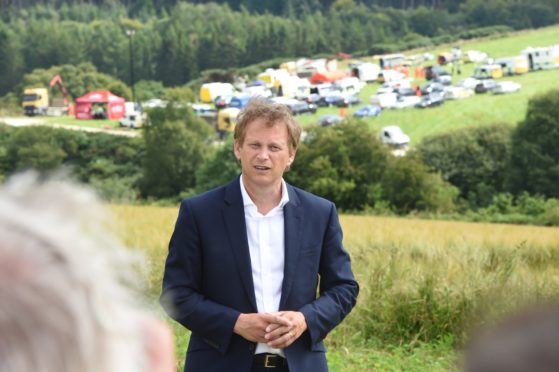 Inspections are to be carried out across parts of the country's rail network deemed at risk of flash flooding to avoid a repeat of the Stonehaven rail crash.
Network Rail will inspect trackside slopes as part of a government-ordered review as a landslip is suspected to have played a part in the incident.
It comes as it was announced a separate investigation will be carried out by Police Scotland, British Transport Police and rail regulator the Office of Rail and Road (ORR), under the direction of the Crown Office.
The inquiry will run in parallel to a separate safety investigation by the Rail Accident Investigation Branch (RAIB) which got under way just hours after Wednesdays' tragedy.
Assistant Chief Constable Judi Heaton said: "Officers from Police Scotland, BTP and the ORR are working together closely as the investigation seeks to establish the full circumstances of what happened, and will utilise the skills of all agencies.
"The multi-agency response to the incident remains ongoing, and we are working with partners to support the family and friends of those involved, as well as the rail family and local community."
Throughout yesterday, emergency services remained at the scene and were seen examining the wreckage and land.
UK Transport Secretary Grant Shapps said it was "far too soon" to say if cutbacks to Network Rail could have contributed to the fatal crash.
He warned against jumping to conclusions, but added: "My observation is that a flash flood seems to wreaked havoc at the scene behind us.
"Rail, in general, has an enormous budget – £46 billion – over what's called a controlled period.
"It's record sums of money, we've never spent more on our railways. But I don't want to get into speculation, let's find the facts."
Mr Shapps has ordered Network Rail to carry out an urgent resilience review of areas affected by recent poor weather, and issue a report this month.
He has also requested a wider assessment of the impact of the weather on the entire rail network, resulting in an interim report by September 1 and a final analysis in the autumn.
The agency will use in-house engineers, specialist contractors and helicopter surveys to assess dozens of sites with "similar characteristics" to the stretch of railway near Stonehaven.
It will also work with meteorologists to strengthen the information it receives about flash flooding while its engineers are reviewing the remote monitoring of high-risk sites with motion sensors and CCTV to test whether it can be improved.
Network Rail boss Andrew Haines joined Mr Shapps in a helicopter survey of the site yesterday.
Mr Haines insisted he would "not pre-empt the outcome of the investigation" but said "it is clear the weather was appalling and there were floods and landslips in the area".
He added: "I have asked my teams to put extra measures in place, from immediate, heightened inspections, to medium-term work with meteorologists to improve information and forecasting.
"Our network was designed for a temperate climate and it's challenged when we get extremes such as storms and floods.
"Yesterday was a tragedy, a truly horrific event, and my thoughts remain with everyone affected.
"Understanding what happened is the key to making sure it never occurs again."
West Aberdeenshire and Kincardine MP Andrew Bowie also visited the derailment site yesterday.
He added: "The strength of community spirit from the people of Stonehaven and the surrounding area has been a ray of light in the darkness.
"The sympathies of an entire country are with the families of those involved in this tragedy.
"I agree with the sentiments expressed by the secretary of state and Michael Matheson – we need to give the joint investigation the room and time it needs.
"Lessons must be learned so there is no repeat of this disaster, here or elsewhere."