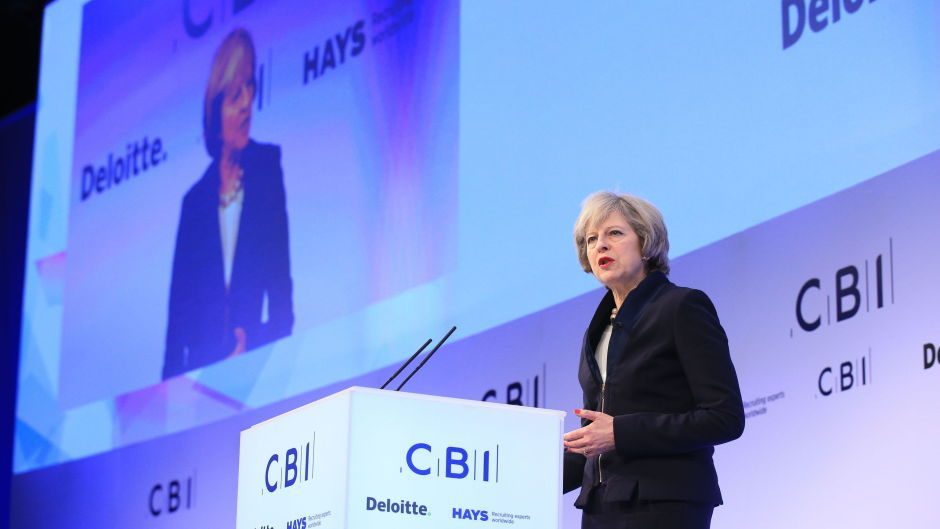 The Prime Minister has denied watering down plans for workers to be represented on company boards.
Theresa May made clear yesterday that her Government's proposals to improve corporate governance will not include the direct appointment of workers or trade union representatives.
She told the CBI in London: "I can categorically tell you this is not about mandating works councils, or the direct appointment of workers or trade union representatives on boards.
"Some companies may find that these models work best for them – but there are other routes that use existing board structures, complemented or supplemented by advisory councils or panels, to ensure all those with a stake in the company are properly represented.
"It will be a question of finding the model that works."
She also ruled out a German-style system of binary boards which separate the running of the company from the inputs of shareholders, employees, customers or suppliers.
However, the comments were immediately interpreted as a U-turn on her much-publicised pledge at the Tory party conference last month.
In Birmingham, she detailed her proposal to have "not just consumers represented on company boards, but workers as well".
But the prime minister's official spokeswoman rejected the notion Mrs May had walked back from her earlier remarks.
She added: "The prime minister said very clearly that we want to find ways to have employees represented on boards. This is about how do we give them a stronger voice in boardroom decision making.
"We will publish a consultation on these and other measures relating to strengthening corporate governance in this country before the end of the year.
"Look at what the prime minister has said the whole way through. This is about how we ensure that workers and their views are represented on boards. What she said (yesterday) is consistent with that."
Just two days before Philip Hammond's Autumn Statement, Mrs May set out her ambition for the UK to have the lowest corporate tax rates in the G20 group of advanced economies, in addition to unveiling measures to boost productivity.
Corporation tax is scheduled to be cut from the current level of 20% to 19% next year and then to 17% in 2020.
US President-Elect Donald Trump has pledged to reduce the federal business tax rate from 35% to 15%.
Asked if the UK would take steps to match this, the prime minister's spokeswoman replied: "Any talk of further cuts is speculation."