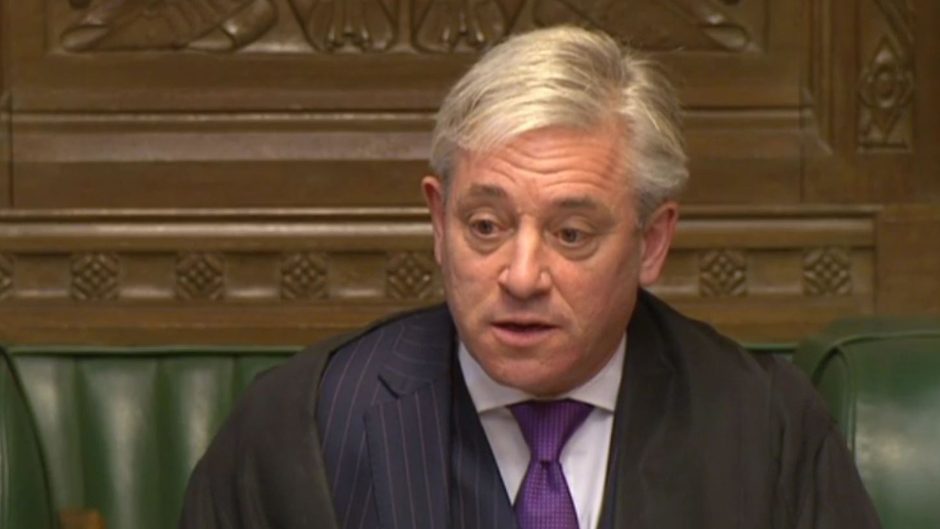 Commons Speaker John Bercow is facing a vote of no confidence for his "wholly inappropriate" attack on Donald Trump.
Tory MP James Duddridge tabled the motion yesterday, arguing his colleague had "overstepped the mark".
Earlier this week, Mr Bercow launched a scathing tirade against the US president to cheers on the opposition benches.
He insisted he was "strongly opposed" to Mr Trump addressing the UK Parliament during his forthcoming state visit, citing the chamber's "opposition to racism and sexism".
After calls to consider his position – and Lords Speaker Lord Fowler's insistence he would keep an "open mind" – the speaker defended his remarks.
He told MPs he was "honestly and honourably" seeking to discharge his responsibilities to the House.
But Mr Duddridge, who represents an Essex constituency, argued that Mr Bercow – having expressed an opinion – could "no longer reasonably chair" debates on the subject.
He added: "He has overstepped the mark; he has overstepped the mark a number of times.
"But this most recent incident – where he used the speaker's chair to pronounce his views on an international situation in some quite detailed and lengthy manner – is wholly inappropriate and it means he can no longer reasonably chair, as speaker, any debate on those subjects.
"This has been happening more and more often from this modernising speaker.
"This is perhaps the straw that has broken the camel's back."
The motion was tabled as the Commons rose for the week-long February recess.
Mr Duddridge claimed the level of support for it could mean the speaker, who has held the role since 2009, is ousted before MPs return to Westminster.
He added: "He doesn't understand the degree of the anger in the House of Commons, the distrust in his role as speaker.
"I expect over the recess….the number of MPs speaking out, either publicly or privately, to journalists will increase and increase and it will be known his position is untenable, perhaps even to the point he doesn't return on the Monday."