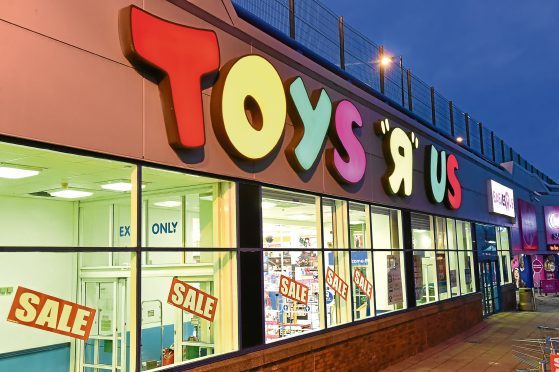 A nationwide toy store will plummet into administration at the end of the month unless it can find new investors to fit a £15million tax bill.
Advisers to Toys R Us are attempting to secure a rescue deal by the end of next week to meet a large VAT demand.
The deadline to save the store, which employs more than 3000 people across the UK, is February 27.
The loss-making chain was only able to survive the Christmas period because investors backed a major financial restructuring involving the closure of a quarter of its shops.
Among those to go were its store in Berryden Retail Park in Aberdeen which announced earlier this year it would close in March or April.
In the lead up to Christmas, the company cut 800 jobs through a company voluntary arrangement (CVA).
The move was designed to provide breathing space to the organisation by closing loss-making stores and securing big rent reductions at others.
Following this development, Steve Knights, the managing director of the UK business, said it showed "strong support for our business plan….so we can better serve customers today and long into the future."
CVAs have been used by other UK stores including BHS, Focus DIC and JJB Stores. But, ultimately, all three of these were victims of the changing retail environment.
The festive period was a difficult time for the company with competition coming from Amazon and other online outlets.
Toys R Us also plans to close 180 stores it has in America – which amounts to 20% of the total.
A spokesman for the firm declined to comment yesterday.
Following the closure of the store in Aberdeen, manager Beth Wickham urged people to visit "one last time."
She said: "There are plenty of bargains to be had in store, everything is now reduced by up to 30% on shelf price.
"If you are looking for toys or expecting a baby, then head to the store now, because everything must go.
"We would like to invite all our customers to visit us one last time."