Bruno Ganz – iconic European actor – dies age 77
Bruno Ganz, the Swiss actor behind one of the most famous on-screen portrayals of Adolf Hitler, has died.
The actor's management team confirmed yesterday that Ganz had died at his home in Zurich, aged 77, after a battle with intestinal cancer.
Born in March 22, 1941 to a Swiss mechanic father and a northern Italian mother, Ganz caught the acting bug early, deciding to pursue a career on stage by the time he started university.
He went on to embrace the acting world, and became an iconic figure in the German movie scene.
His Swiss-accented voice as instantly recognizable for movie-goers, and his sudden change in temperance was a trait he was known to adopt for many of his roles.
In German cinema, his career spanned six decades, and his highlights included Wim Wenders' Wings of Desire, in which he played an invisible angel, who roamed the streets of Berlin in order to provide comfort to humans.
We're saddened to hear the news that Swiss actor Bruno Ganz has passed away https://t.co/76c58Jnfht pic.twitter.com/xpwI5uvpft

— BFI (@BFI) February 17, 2019
Ganz also appeared in English-language films such as the 2004 remake of The Manchurian Candidate, with Denzel Washington, and 2008's The Reader, with Kate Winslet.
But it was his turn as Hitler that caused a worldwide sensation.
The film, called Der Untergang in German, told the story of Hitler's final days in his Berlin bunker.
It grossed £71.3million at box offices around the world when it was released.
One particular scene depicting Hitler suffering from a bout of rage within his bunker became an online meme, and spawned thousands of parodies online.
In 2005 Ganz revealed that he had spent four months preparing for the role, studying historical records including a secretly-recorded tape of Hitler.
He also observed and studied people with Parkinson's disease, which he believed was a condition the dictator had.
RT The famous scene that was turned into loads of parody videos on Youtube.

Hitler's (Bruno Ganz) reaction after hearing Steiner refused to attack with his Armeeabteilung Steiner (Army Detachment Steiner), April 1945. pic.twitter.com/zymrGwTuLt

— Rick Toney (@RickToney01) February 17, 2019
His last on-screen performance was in Lars von Trier's 2018 film The House that Jack Built.
In response to his contribution to the film industry, Ganz was honoured with Germany's Order of Merit and made a knight of the French Légion d'honneur.
In addition, at the time of his death, Ganz was the holder of the Iffland-Ring, an accolade to the German-speaking actor judged "most significant and worthy".
The ring is passed from person to person, and it is not yet clear who Ganz had intended it to transfer to on the occasion of his death.
RIP Bruno Ganz (1941-2019) seen here with Werner Herzog on the set of Nosferatu the Vampyre pic.twitter.com/Pdgb8M1Bz4

— 41 Strange (@41Strange) February 16, 2019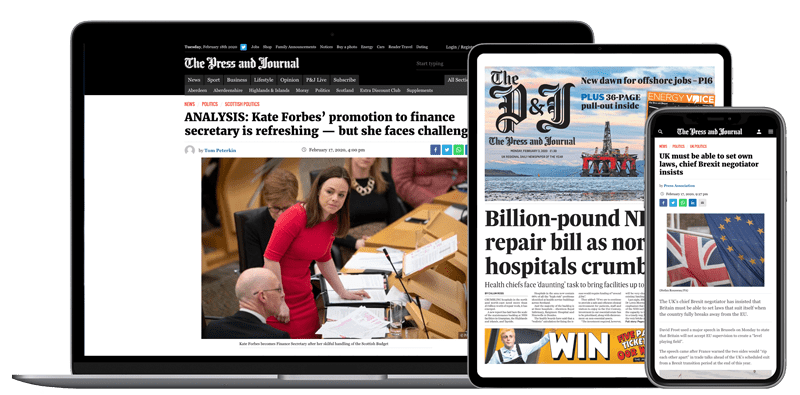 Help support quality local journalism … become a digital subscriber to The Press and Journal
For as little as £5.99 a month you can access all of our content, including Premium articles.
Subscribe