Many of Knoydart's glens have been uninhabited since the Clearances, but there are traces all around of past lives, including in our place names.
Corbett Beinn na Caillich translates to "Hill of the Old Woman". Between two burns on its wickedly steep southeast slope lies a ruin which, according to local legend, was once lived in by an old woman – the Caillich.
A few stone walls are all that remain, sitting quietly amongst the Rough Bounds, with nothing but nature for company.
If she were alive today, the old woman's view of iconic Munro Ladhar Bheinn would be in jeopardy. But, on the bright side, she would be the only resident on the Knoydart peninsula set to benefit from a new 4G mast.
The UK Government and four mobile network providers are splitting the cost of a £1 billion project, known as the Shared Rural Network, to improve mobile coverage across the UK. The goal is to provide 90% of Scotland's landmass with 4G coverage by 2025.
A desktop analysis has concluded that Knoydart would benefit from multiple 4G masts, including one set to tower above the Caillich's ruin.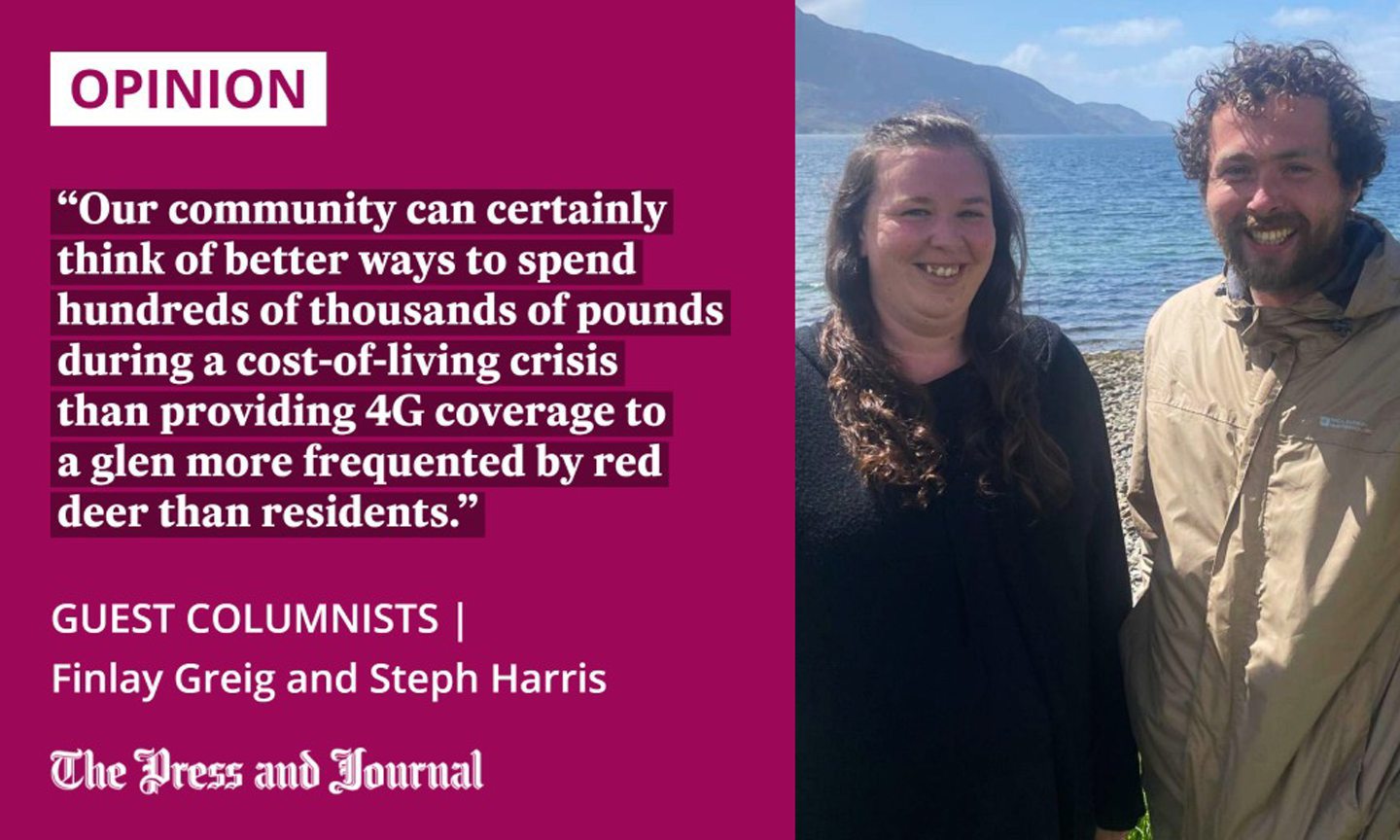 We're told there are lots of benefits – it will boost our local economy, increase social connectivity and help us book GP appointments easier. On paper, this sounds reasonable. However, when you look at the finer detail, the masts are not targeting the homes of residents, but rather vast swathes of uninhabited land.
Why is so much capital being poured into a project that will benefit so few residents, if any?
According to the brains behind the initiative, the new masts will provide guaranteed coverage to 280,000 premises and 16,000km of roads overall. The Caillich's mast certainly won't make a dent in this target, nor will the five additional mast sites being strongly considered across community-owned land and neighbouring estates. It seems excessive for a place that has fewer than 100 households and 20 miles of road.
Our community can certainly think of better ways to spend hundreds of thousands of pounds during a cost-of-living crisis than providing 4G coverage to a glen more frequented by red deer than residents.
There's also the question of how these masts will be built and looked after. One contractor indicated that the structures could potentially be built, maintained and then refuelled using helicopters – we've asked if the UK Government has carried out a carbon audit for the project and are still waiting for a reply.
It's not just a couple of locals against the masts. When word spread of the proposals, we surveyed our 130-resident community to find out what folk thought. This returned 104 responses – the highest we've ever had from a local consultation – and every single person was opposed to the potential development.
But who are we to have an opinion about what happens on our home land?
And, before you ask, we are not Luddites; almost all residents' homes are already set to receive 4G coverage by way of a mast erected near Inverie last year.
The few ignoring the many
We could debate for hours about all the reasons why this proposal is ludicrous but, in our view, what's happening here sheds light on a bigger issue.
It feels like history is repeating itself. Yet again, the collective is on the verge of being forced to comply with the plans of the few
The majority of Knoydart is community owned – after decades of successive absentee landowners inflicting their grandiose ideas for no lasting benefit, residents had enough and brought the estate under community ownership. For the last 24 years, we have been the decision-makers, creating jobs and accommodation for locals, and running our own hydro-electric scheme.
But, now, it feels like history is repeating itself. Yet again, the collective is on the verge of being forced to comply with the plans of the few.
Since the Clearances, the Caillich's home has stood empty, reclaimed by bramble and bracken. As with so many others, her fate was decided for her.
---
Finlay Greig and Steph Harris are Knoydart residents