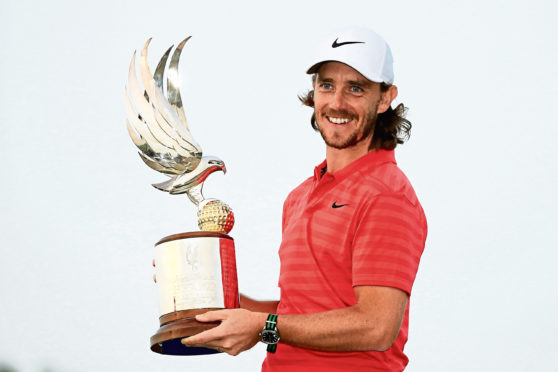 After almost three months off, I'm excited to get going again for the 2019 season at the Abu Dhabi Championship.
The tournament has been added to the Rolex Series with a major increase in prize money and ranking points, so every golfer in the field will be hoping to get off to a strong start.
Tommy Fleetwood is aiming to win the title for the third year in a row and will start as the man to beat but there is a strong field assembled, including Brooks Koepka and Dustin Johnson.
I have been working hard over the winter although I picked up a wrist injury which curtailed the amount of practice I could do, which was frustrating.
I should be fine to compete this week but I have to build up the tolerance in my wrist again. I have been able to do a lot of chipping and putting in recent weeks, which is good as it is an area I need to improve, but it has been difficult to do proper testing and range work.
I feel I have made some good strides and have identified my main problem throughout the 2018 season, which was my scoring around the greens.
As a result of that, my main targets for 2019 are to improve my chipping around the green and my putting inside 10 feet.
Another goal is to stay healthy. If I can do those small things and my game remains consistent from tee to green I feel like doing well in the Race to Dubai and competing to win a fourth title are definitely achievable.
It will be interesting to see the new rule changes in operation at this week's event.
I think they will be a good addition; anything that speeds up the game should be welcomed.
It feels different to be dropping the ball from knee height and I'm not sure if I will be putting with the pin in too often, apart from for long-distance putts.
From shorter ranges I think I will stick to it being out, unless I am playing a bounce game with friends.
Of course the big talking point among the players is the confirmation of Padraig Harrington as European Ryder Cup captain.
Everyone has been very positive about the appointment.
He has won three majors, including one in America, which is important.
He is well respected in America and the Irish have a great following over there which will help gain support for the Europeans at Whistling Straits.
The guys who are likely to make the team have a lot of respect for him and I'm sure he will be a very good Ryder Cup captain.
I was out in Dubai last week to work on my game and the Aberdeen team were actually on my flight.
I'm sure they have been enjoying the heat, and hopefully their warm weather camp will spur them on.
They possibly didn't want the winter break to come as they were on a nice streak of wins, but hopefully they can continue that in January as they aren't that far behind at the top.