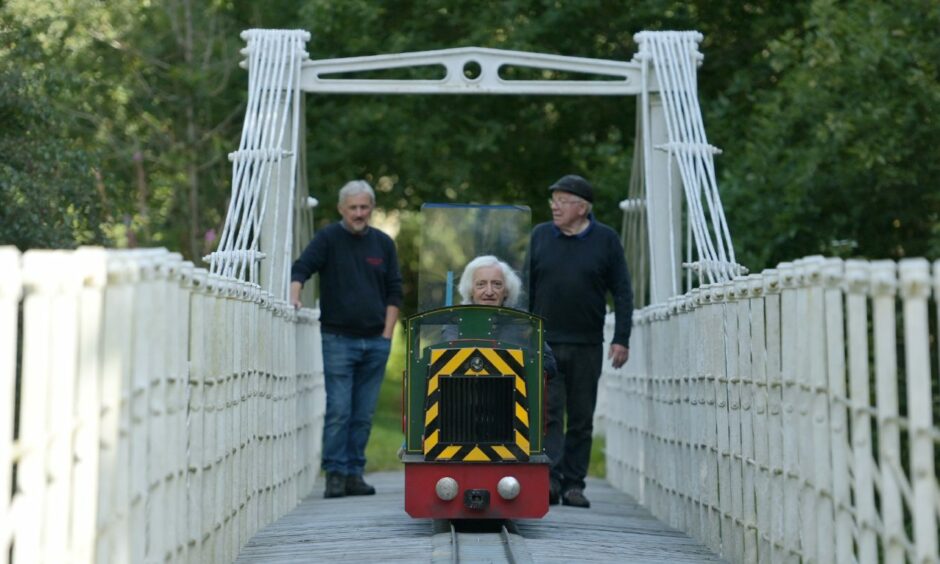 Something has to keep Brian Warrender coming back again and again to volunteer on the Ness Islands miniature railway in Inverness.
He's been doing it for 30 years, and at 71, he shows no sign of stopping.
He distills it into few words: "It's the smiles you see on the children's faces."
The railway at Whin Park has delighted generations of Invernessians and visitors, young and old, for the past 40 years, a must-do attraction, and to be oft-repeated, for the holidays.
It was the vision of retired railway man Ian Young back in 1983, and he poured heart and soul into it until his death in 2018.
The railway is now owned by Highland Hospice and makes a valuable financial contribution to the running of that vital service.
Meet the volunteers keeping the Ness Islands miniature railway on track
The railway's day-to-day running is safe in the hands of a core of four dedicated volunteers including Brian, Jim Blyth, Alasdair Macleod and Robin Forrest.
They do everything from ticket sales and guard duties to the coveted top job, driving the locos.
The 7 ¼ gauge railway currently boasts three locomotives, Chrissy, who is steam powered, and petrol locos Uncle Frank and Uncle John.
It winds its way round the half a mile track with a jolly tooting of the horn, over a salvaged suspension bridge.
And anyone who doesn't believe in pink elephants is wrong, because there's one right there beside the track, and he's called Floyd. Pink Floyd.
He's joined by fellow jungle chums, three ex-council hippos, Orange Squash, Purple Heather and Blue Peter.  What colour might they be? The clue is in the name.
They've been lurking in the undergrowth for almost as long as the railway has been in existence.
The track has pleasing curves and loops, and best of all makes that proper clickety-clack noise on the tracks.
Brian, originally from Longside in Aberdeenshire, met the railway's founder Ian Young when they both worked at Inverness airport.
How the Ness Islands railway came to be…
Brian was a senior air traffic controller and Ian was a senior electrician.
"It was Ian's idea. At the time the railway at Port Errol in Cruden Bay had closed and the stock and the track had become available," Brian said.
"I think Ian got grant funding and rented the land from the council, and he and his cousin Ian Urqhuart, who worked for British Rail, laid the track.
"His uncle Frank, an ex-fireman for British Railways at Inverness helped too.
"Ian just had the idea and when everything became available chased it up and they laid it."
At first the track was a giant oval, but it became more complex as the years went by.
"It became what we have today in 1989 when they managed to get the suspension bridge, which used to go from the crazy golf to the islands.
"It's just grown from there."
Ian asked if Brian could come down and help.
"I did what everybody else does, I started selling tickets and then became a guard, then a driver.
"It's great fun. My favourite job is obviously driving the steam engine but Chrissy is very fussy about track so we've been working on that and I'd hope to get her out for the October holidays.
"Other than that it's the smile you see on kids' faces, and indeed some adults, it makes your day.
"You get the odd shall we say, contretemps, with people particularly at the end of the day if we're shutting and they don't get on."
Volunteers working hard to keep the railway going in 2023
The railway continues to evolve, with Jim being the driving force in enhancing the environment, putting in new flowers in this year, logs painted and made to look like Nessie, and a halt manned either by Paddington Bear or Womble Orinoco.
"It's more than just a run through the woods," Brian says proudly.
Ness Islands Railway has attracted many a miniature railway enthusiast in its four decades, but not many who have actually built a loco to go on it.
Stacey O'Gorman, a clockmaker, model maker, jeweller, and penny whistle maker did just that after she became involved with the railway from the start, in 1983.
Stacey, of Alba Whistles, Evanton, said: "I built a petrol locomotive called Wee Beastie and I used to drive it on Ness Islands track, along with the other trains.
"I started out with it as a plywood model.
"It's still in existence but I don't know where now."
Stacey's knack for making things is in her DNA.
"My father Reginald O Gorman was a really good engineer, I have a locomotive that he built, Hercules, which has also been on the Ness Islands railway."
Stacey is very keen to pay tribute to the railway's founder Ian Young.
She met him originally at the railway through her interest in 7 ¼ gauge miniature railways.
She said: "I used to go down there and do little jobs.
"He was a great guy and a nice person, and he was a joy to be around.
"A lot of people remember him in a similar way."
Since Highland Hospice took over the Ness Islands Railway in 2019, the attraction has raised more than £100,000 in profit which goes directly to patient care and service delivery.
If you want to get involved with volunteering at the railway, get in touch by email to volunteer@highlandhospice.org.uk or visit the Highland Hospice site here. 
You might enjoy:
West Highland crofter of 17 years says traditional way of life has disappeared