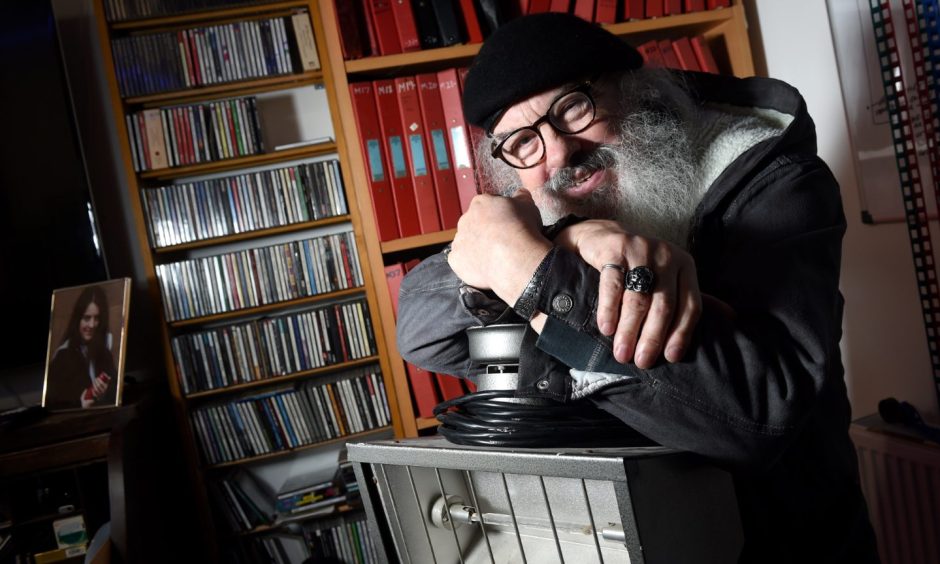 "I just stood next to interesting people and photographed them."
That's the modest perspective Nairn photographer Marc Marnie puts on his 50-year career capturing Scotland's evolving music scene and the people who played it.
Chuck Berry, Ray Charles, BB King, Amy Whitehouse, Ringo Starr, Miles Davis, Siouxie Sioux and The Banshees, Peter Green of Fleetwood Mac, James Brown, Jack Bruce, Ginger Baker, Robbie Williams, Alanis Morrissette—to name but a very few.
And then there was the one he stood right next too but felt it wrong to photograph— David Bowie.
Marc finds it hard to place the people he's photographed into some kind of celebrity pecking order, and then name-drop about them.
He doesn't agree with the concept of celebrity, his half-century spent inches from famous folk strutting their stuff on stage, or in their hotel rooms or dressing rooms, having left him with the certain knowledge: "We're all basically the same, famous or not."
Over the years, Marc has amassed more than 350,000 film prints, and countless more digital images since he switched to the medium in 2004.
He keeps all the photographs safe and secure in the eponymous Marnie Archive in Nairn for posterity.
In this article, we find out about:
How Marc's childhood and schooldays developed his love of music and art
When Chuck Berry made him wait three hours for a photo, after sticking up two fingers at him for a whole gig
Some of Marc's favourite photos of music royalty performing in Scotland
And his plans for digitally preserving his archive for future generations.
Uncompromising work of a master photographer
The Marnie Archives are the work of a man who has been completely uncompromising in his choice of life path, sacrificing financial security, relationships and even home life for his craft.
But the archive speaks for itself, an extraordinary record of the musicians and singers who took part in the vibrant kaleidoscope of music which blossomed in the late twentieth century and beyond.
Marc comes originally from Fort William, where his father worked for the Forestry Commission, a job requiring the family to move every four years.
Primary school for him was a disaster.  After day one, he walked out, glad it was all over, and swore he would never go back.
School horrified him, but Marc found his passion in music
"I was horrified to be told I was returning the next day and the next," Marc says.
He found the other children incomprehensibly cruel, shocked when one day he chanced upon a fellow pupil beating a frog to death.
He was beaten by the child for protesting, and then by the teacher for telling on the other child.
Confusing.
But music started to pervade his life and make it worth living, through the influence of his big sister.
She knew someone who was a sales rep for juke box records, 45s with an extra large hole in the middle, and soon Marc was listening to the likes of Elvis, The Beatles and The Kinks.
He said: "My dad played Jake Thackray, Joan Baez, Julie Felix, all of whom I eventually met and photographed.
"Joan Baez was playing Glasgow when I photographed her and I found out she secretly went to visit the striking Timex workers in Dundee to support them."
The arrival of colour TV in the Marnie household in the early 60s was a seminal moment too.
Now the young Marc could visually connect with the people whose music switched him on.
Marc's family moved to Fort Augustus for a while, and Marc found himself at the now notorious Fort Augustus Abbey School for a couple of years.
His form master ended up in prison, and Jimmy Savile was an occasional visitor, although fortunately Marc was spared any abuse—"The abuse included striking the children and using the cane, so I didn't entirely escape," he adds.
Secondary school threatened to be as disastrous as primary until Marc discovered his talent for sport.
"I found it easy and I was talented," he says. "Rugby, hockey, cricket, soccer. But not swimming although ironically in 1988 my cousins were the first twins to swim the channel."
After leaving Nairn Academy, Marc decided on photography as his life
Then the family moved to Nairn, and Marc attended Nairn Academy from about second year.
A massive influence on his life at this time was teacher Dave Cook, whom he describes as his 'favourite clog-wearing hippy teacher'.
"Mr Cook cared very much about us kids.
"He played me early blues, early Fleetwood Mac and Dr Isaiah Ross The Harmonica Boss albums.
"He also took me along to hear the great Jo Ann Kelly play a gig in Forres in the mid 1970s.
"We became friends before she died in 1990."
By the time Marc left Nairn Academy in 1977, he had resolved to make music photography his life's work.
His first big gig was in 1978, photographing Muddy Waters at the Glasgow Apollo.
"He was actually supporting Eric Clapton and Cream," Marc remembers.
By his own admission, he fully enjoyed the alcohol and drugs scene that went with the territory and some of his recollections of time and place, when and where can be hazy.
"I'm not condoning the drugs and alcohol culture," he say, "all I'm saying is it was OK for me.
"I'm not linear or organised, and I did a lot of my best work under one influence or another."
Marc followed a girlfriend to Southampton and there built on his passion for theatre, photographing the vibrant student theatre scene there.
It was something he took to Edinburgh when he moved there, working extensively with the likes of Benchtours Theatre Co, Edinburgh Lyceum, Traverse and Stellar Quines.
During his years in Edinburgh, the Queen's Hall became one of his most important haunts.
Discovering jazz
A chance conversation after finding himself elbow to elbow outside the Hall with jazz tenor saxophonist Jean-Baptiste Illinois Jacquet turned Marc on to jazz, which he describes as his go-to music.
"I've taken more images in the Queens Hall than any other venue," he says. "It's an intimate venue, perfect for jazz, folk and classical music."
Marc would often sell his work on spec to The Scotsman, rushing from his dark room at home in Leith to deliver the print to the North Bridge early the next morning.
On portrait photography, Marc says he doesn't take pictures, he is given them.
Some are more easily given than others, and some are given in a mean spirit.
Chuck Berry was rude
Like when Chuck Berry agreed to have his photo taken during a gig, but constantly turned to Marc and gave him two fingers, before making him wait for three hours for the arranged backstage image.
Marc realised as he matured that his appearance gave him the edge over other photographers.
"They would spot me, the old bearded guy, among the others," he said.
Sometimes it led to an instant, albeit fleeting connection, like the time he photographed Amy Winehouse at T in the Park.
"She was coming through the crowd with people and she looked at me and said hello.
"I felt she was quite absent, possessed by other people. Then I felt guilty, because I too wanted a bit of her."
Massive stars like Robbie Williams or Alanis Morissette made a different impression on Marc, with their all-consuming need for an audience.
He said: "I see Robbie as a pub Elton John, but he is electric on stage, he feeds off it, same as Alanis, although she is a much finer artist.
"But I admire and respect all those who get up and give it a go, and put their heart and soul in it."
Capturing Ringo Starr at the drums was touch and go at the Clydebank auditorium in 2011.
"He sang three songs away from the drums, and only went near them once, fleetingly, but I was lucky to capture the moment," Marc says.
He describes himself as an empath, able to attune himself to the people he's photographing.
"I'm patient too," he says. "That's an important part of capturing the right moment.
"And I never forget it's a privilege to be around such people."
It's a privilege Marc doesn't care to abuse either.
Once he was walking through Edinburgh's west end with a friend, and they spotted David Bowie heading towards the Caledonian Hotel.
The friend had a passing acquaintance with Bowie, and went up to him and they chatted.
Wrong moment to photograph Bowie
Marc was introduced, but felt it was wrong to take a photograph.
"It was the feeling of the moment," he says. "I've never questioned the feeling that I should not ask him."
Marc's vast archive was nearly lost when the basement where they were stored was flooded.
Now he's trying to preserve the prints by digitising them for posterity.
He reckons 90% of them have never yet been seen.
Pulling a random file of prints off the shelf takes him instantly down memory lane.
"Oh, the Grateful Dead," he says, flicking through. "I love them."
To the end of preserving this cultural treasure, Marc has a crowdfunding page and is actively looking for funding to help with the task of digitising his archive.
He's also produced a 2024 calendar featuring some of his favourite photographs, including Ray Charles — "he had had a flaming row with one of the Rayettes backstage"; Nico— "she was very scary"; Buddy Guy and Junior Wells —"they weren't really talking to each other"; Peter Green, Dr Isaiah Ross, Loudon Wainwright III, and James Brown during his 1993 gig in Aberdeen.
Also Jake Thackray, whose music Marc discovered through his dad, decades earlier.
"He was really nice about it, but simply had no interest in being photographed backstage," Marc says. "So was Gene Pitney, a gent, who also features in the calendar."
Marc is now a full-time carer for his 93 year old dad. He took up drums some years ago and can often be found playing with the CCM Band in The Bandstand or The Havelock in Nairn.
He's also bemused in a chuffed sort of way to find himself nominated in the Photographer category of this year's 21st Scots Trad Music Awards.
"I'm the 'venerable' one," he says.
More like this:
When The Beatles struggled to find fans in Elgin and Dingwall