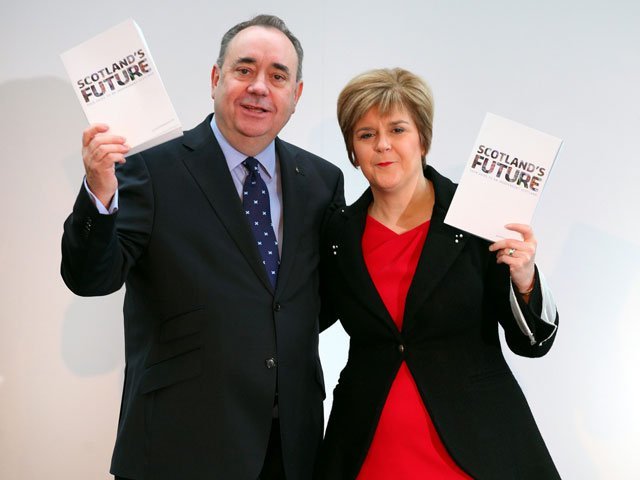 When Alex Salmond steps down as SNP leader today, he will hail the independence referendum as the "most significant breakthrough" in Scottish political history.
Since September 18 party membership has soared by around 60,000, despite 55% of voters rejecting independence.
The nationalists are also flying high in the polls, showing around 46% support for May's general election, and 48% on the Holyrood constituency vote.
The two-day national conference in Perth will start with Nicola Sturgeon being elected unopposed to succeed Mr Salmond, paving the way for her to become first minister on Wednesday.
When Mr Salmond gives his last speech as party leader this afternoon, he will say that September 18 will come to be seen as the day Scotland "took control" of its own destiny.
"So regardless of Yes and No let us all agree that from 18th September 2014 the clear winner can be Scotland," he will say.
The new deputy leader to succeed Ms Sturgeon will be announced this morning. Three candidates are standing: Transport Minister Keith Brown: Training, Youth and Employment Secretary Angela Constance; and Dundee East MP Stewart Hosie.
The conference is expected to bring a £1.75million boost to the economy of Perth as 1,200 delegates, 550 members, 52 exhibitors, 300 media representatives, and 250 observers gather in the city.
SNP business convener Derek Mackay said: "As delegates gather in Perth for our annual national conference, the SNP is 'Stronger for Scotland' – with growing support across the country as our membership continues to grow.
"Alex Salmond leaves the party in great shape. The SNP has become the national party of Scotland in all senses – leading in the polls across all areas and demographics of Scottish society.
A Scottish Labour spokesman said: "Two months ago more than two million Scots voted to remain part of the UK. Now, only a few weeks later, in a display of breathtaking arrogance, the first minister decides their views are not relevant as he ploughs on with his politics of grievance and division.
"The sovereign will of the people of Scotland is clear and that is to remain part of the UK. The SNP should accept and respect this and get in with the job of using the powers they have now to make Scotland a better place."