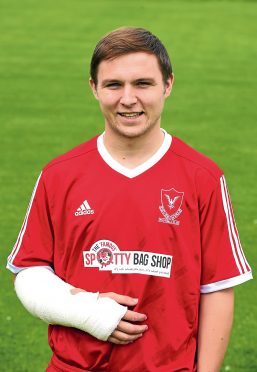 Deveronvale bounced back from their disappointment of losing to Banks o' Dee in midweek by moving into ninth place in the Highland League with a deserved victory over Huntly.
Two goals from top scorer Dane Ballard combined with superb strikes from man-of-the-match Graeme Watt and Liam Forbes did the damage while Huntly's sole crumb of comfort came from another great strike from Ryan Stewart.
Vale manager Steve Dolan was delighted with what his player's gave him.
He said: "I probably worried more about Wednesday's result than the players.
"I sent them out in positive mood telling them to settle into the game. The key was to get the first goal. We did and once that went in we settled.
"We got a break when Michael Ewen was denied by a great save from Grant Pennet before Graeme got a second for us.
"It shows how a game can turn in a short space of time and the same applied in the second half when they missed a penalty and a few minutes later we got another great goal.
"I thought we played within ourselves but that was due to nerves. We were a bit more controlled than usual and it worked a treat so my players deserve great credit for the way they have responded as many expected us to get beat on the day."
Huntly manager Charlie Charlesworth is looking to get his players back into their usual routine after what he said had been a disappointment from his players due to the stop-start nature of the past few weeks.
He said: "Things translate from training into matchdays and we did look a bit sluggish.
"To be fair to Vale their formation is difficult to deal with but we changed our shape to try to get a bit more width.
"I was disappointed with the free kick given for the opener as it looked as though Gary McGowan had won the ball.
"Although they didn't score from the free kick itself the ball into the box did lead to the goal so that situation shouldn't have arisen as the ball was won cleanly, in our opinion."
Vale opened the scoring through Ballard after 26 minutes when Craig Reed failed to deal with Watt's 25-yard shot and Vale's top scorer pounced to net from four yards.
Ewen saw Pennet produce a superb one-handed stop to keep out a netbound 14-yard strike in the 38th minute and Vale capitalised three minutes later when Watt ran at the visiting defence before netting from 22 yards.
Huntly passed up a great chance to get back into the game after 52 minutes when McGowan shot wide from the spot.
Not for the first time in the game Vale made Huntly pay the penalty when Forbes blasted an unstoppable 35 yard shot low beyond the helpless Reid after 59 minutes.
The keeper was badly at fault for the fourth in the 72nd minute when he let a weak header from Ballard creep under his body following a Matthew Wallace free kick.
Huntly's only bright spot came eleven minutes from time when Ryan Stewart fired another great effort from 30 yards high beyond Pennet who had no answer to the third superb goal of the game.