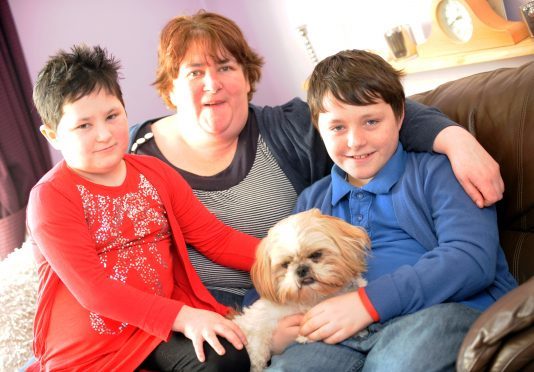 A north-east family have spoken about their teenage daughter's gruelling battle with ME.
The condition, which affects more than 20,000 people in Scotland, is a debilitating neuro-immune disease which leaves sufferers unable to work or even carry out basic everyday tasks.
And Elaine Sclater, from Inverbervie, has watched how her daughter, Abbie, 17, has been stricken and left housebound by the worst effects of Myalgic Encephalomyelitis.
She said: "It has had a massive influence on Abbie's life and something needs to be done to help those who have ME. There is no specialist care at all.
"There is a clinic in Bath which helps English kids, but there is nothing in Scotland and that is why we need greater help from the medical profession and from politicians in the area.
"I was one of the doubters in the early years when I first heard about ME and how it was described as 'yuppie flu', but I know now just how real it is.
"It affects almost everything in Abbie's life. She is constantly tired, she has brain fog, she had difficulty moving, and yet it is as if nobody knows what to do."
Abbie told The Press and Journal: "At primary school, I was just like everybody else, I played netball, did gymnastics, and had sleepovers with friends.
"But, as I headed towards secondary school, I got really tired, I would come home straight from school and sleep until the next morning, and Mum struggled to wake me up.
"She tried everything: we went to the doctor's, the hospital, but they couldn't find anything and I felt as if I was going crazy.
"But the hospital eventually did a blood test, they said I had ME and I was so happy to know it wasn't just in my head.
"Yet, as time went on, I got more sore and exhausted and ended up missing days of school, and that caused problems as well."
The youngster has been referred to various clinics in Aberdeen and elsewhere, but revealed she is currently on a wide range of drugs.
She added: "I have been on hundreds of different medications, but none of them have really worked.
"Nowadays, I'm hardly able to go out of the house. If I do, it's in a wheelchair. We also have a stairlift, a disabled shower, and a commode.
"I just want to find out how I can get better. It's my 18th birthday next month."
There was support for Abbie from two north-east MSPs yesterday.
Labour's Lewis Macdonald said: "This is a distressing case. A young person who should be full of life and energy is not and it's really important to ensure she gets the best possible treatment to deal with her ME.
"That might mean referral to expert help, for example the clinic in Bath, if she cannot access the support she needs here in Grampian.
"The sooner this is sorted, the better quality of life she will have in the years ahead."