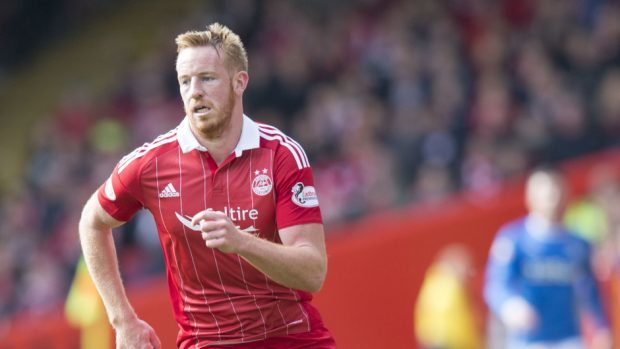 Aberdeen forward Adam Rooney hopes to emulate the club's all-time top scorer Joe Harper by hitting the 20-goal mark against St Johnstone today.
The Irishman has netted 19 times this season and one more goal would make him the first Don to hit the 20-goal mark for the third season in a row since Harper in the late 1970s.
Rooney said: "The first aim is to get into double figures by Christmas then take it from there with 20 being the next target.
"Hopefully, I will get there sooner rather than later then get a few more before the end of the season.
"Someone told me the other day I would become the first Aberdeen player since Joe Harper to get 20 three seasons in a row, so it would be nice to do that.
"I don't read too much into these sort of things but it would be a milestone to achieve.
"Obviously, the main aim in every game is to go out to score goals and if I don't manage it then I won't be happy regardless.
"The older you get the more experienced you become and you believe in yourself a bit more.
"So, you don't worry about it if you go through spells as a forward where you don't score every week.
"You know there will come a time when you score for five or six matches running, so you just need to keep getting into the right positions to finish off things.
"Joe is always one of the first to come over and congratulate me on any of the achievements I've done with the club.
"I always see him around the club and it's great to have someone who is such an Aberdeen legend around the place.
"I've only seen a few clips of him playing for Aberdeen but you just have to see his goalscoring record to see what a great forward he was."
Rooney, meanwhile, says he would be quite content to have no time off this summer if it meant winning a first full cap for his country.
The Dons will end the season with the Scottish Cup final against Celtic on May 27 and Rooney hopes to head straight to America to join Martin O'Neill's side for the friendly against Mexico in the United States on June 2.
The Irish then take on Uruguay in Dublin two days later before a World Cup qualifier against Austria on June 11.
With the Dons facing an early start for the Europa League, it would mean Rooney would have little time to rest between seasons.
He said: "I might get two days holiday but that's enough isn't it?
"We are only part-timers for the rest of the year anyway. We finish at one o'clock, so you can't complain.
"You want to be part of these teams. Being part of the Irish squad would be brilliant."