Aberdeen returning director Dave Cormack is confident the Dons can build on last season's success and feels they have not reached a glass ceiling.
The US-based software entrepreneur, born and bred in the Granite City, has invested a seven-figure sum in the Dons and has returned to the board, having served from 2000 to 2001 as interim chief executive.
Lifelong fan and former chief executive invests millions in Dons
Derek McInnes' side enjoyed a memorable but trophy-less campaign last season, finishing second to treble-winning Celtic in all three domestic competitions.
But with Aberdeen reaching two cup finals and achieving a third successive runners-up finish in the Scottish Premiership, Cormack is optimistic about further progress.
He said: "With Aberdeen being a one-club city, being debt-free and having enjoyed the last few years of success, we feel there is an opportunity to kick on.
"Apart from the financial investment, I am coming on board to really help the club with some other initiatives to help us increase our turnover and increase the supporter base.
"The club has proved in the last few seasons that it can punch above its weight and we think that can continue."
But Cormack believes delivering the club's proposed new £50million stadium and training facilities at Kingsford, near Westhill, is key to helping the club reach the next level. The plans will go before councillors in October and, should planning permission be granted, the new stadium could be completed by 2020.
The 58-year-old said: "We have a process to go through.
"Should we be blessed as a club to get planning permission then it would be exciting times.
"I would draw a parallel with Atlanta United, the new MLS team.
"I am a season-ticket holder with my family and they are about to move into a purpose-built 60,000-seater stadium with a separate training facility.
"Every area in Atlanta has been fighting to get them to locate where they are because it brings so much business to the area.
"Aberdeen has been trying to find a new home for almost 17 years now.
"Should we be blessed that the council grants planning permission then the new facility would allow us to kick on as the game evolves in Europe.
"We need to have better facilities to attract the players, too."
Unsurprisingly, McInnes' impressive work at Pittodrie has not gone unnoticed, with the Aberdeen manager on the Sunderland shortlist following the departure of David Moyes.
But Cormack added: "Our goal is to keep the best people we have at the club, whether that is the manager or the players, to deliver success.
"I am only just joining the board, so I am not privy to what has been going on.
"But, as far as I am aware, Derek is absolutely focused with the recruitment team on getting Aberdeen ready for next season."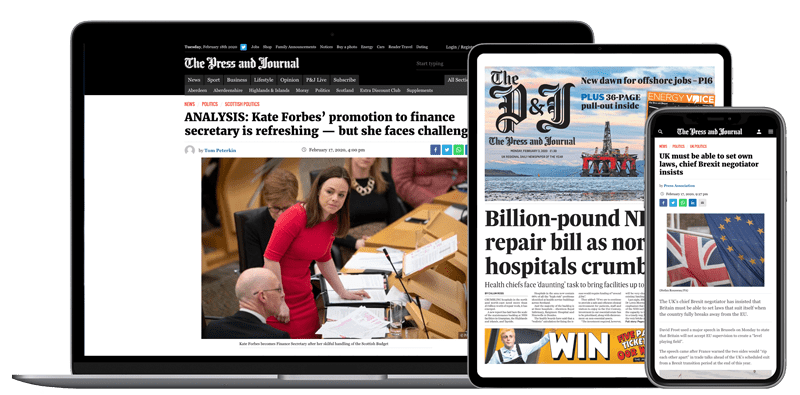 Help support quality local journalism … become a digital subscriber to The Press and Journal
For as little as £5.99 a month you can access all of our content, including Premium articles.
Subscribe