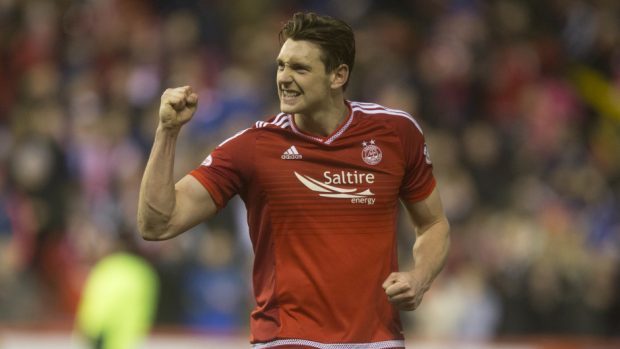 Ash Taylor believes he is returning to Aberdeen a better player after joining the Dons for a second time.
The 28-year-old left the Dons two years ago for Northampton Town but completed his return yesterday on a two-year deal.
The Dons had earlier in the day completed their first transfer of the summer by signing Barnsley winger Ryan Hedges on a three-year deal.
Taylor, who made 126 appearances in three seasons with the Dons before joining the Cobblers, said: "It feels like I haven't been away.
"It is good to be back in the building.
"I think I have matured mentally and physically. I handle things a lot better.
"I think I have improved. I know what I am about and I am more experienced.
"I know what I am coming back to. I know how the management team work and what they expect from me.
"I know where my standards need to be to play."
Taylor said his move from the Dons two years ago was for family reasons and is relishing a second stint with the Reds.
He said: "My family loved it and they are very happy to come back here.
"My daughter was born here so I'm bringing here back home in a sense.
"When we had my little girl up here, we decided to go home (to England).
"It was nothing about playing football, we would have stayed, but on a personal level it was important to get my family around the little one.
"I had no regrets but it was purely family reasons."
Taylor said the move back to the Dons stemmed from a chance meeting with Aberdeen's head of recruitment Russ Richardson.
He added: "In the first season things didn't go to plan for the team but on a personal level it went very well.
"I won some awards and they made me captain.
"This year didn't go quite so well with the change of manager.
"Things change in football very quickly. It was time to move on.
"I wasn't involved in one of the games and the chief scout Russ was at one of our games for some strange reason.
"I saw him in the reception and got talking to him.
"He asked why I wasn't playing and if I was injured.
"I said I wasn't and it stemmed from there.
"He sat beside me during the game and one thing led to another."
Aberdeen reached the Scottish Cup and League Cup finals in Taylor's final season with the Dons only to finish runners-up to Celtic in both competition as well as in the Scottish Premiership.
Taylor added: "It was a very good season and disappointing not to get silverware.
"That team broke up with a few players leaving.
"I am focused on coming back and putting things right."