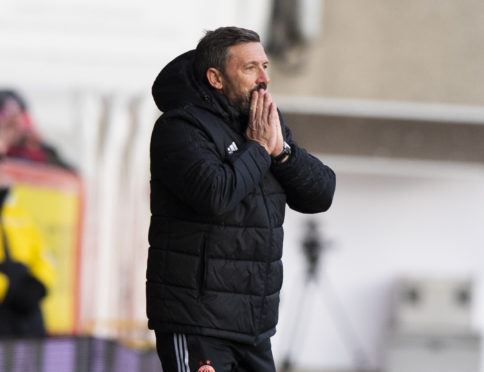 Ciara was not the only storm gathering around Pittodrie.
The sudden and total failure of Aberdeen's attack is beginning to cause equally ferocious gales of disquiet to howl off the stands.
In some ways, the fierce winds hammering Scotland on Saturday were well timed for the Dons. The challenging conditions made it similarly difficult for Kilmarnock to find a goal from which this team is currently ill-equipped to recover, while also providing a ready-made explanation for yet another nil being registered against Aberdeen's name. But the inclemency of the Reds' offensive play has lasted much too long to be dismissed as a simple squall. It is beginning to look more like climate change than mere weather.
By failing to register a goal for a fifth successive match, this Aberdeen team has unhappily equalled an all-time club record.
So long ago was it set, back in 1905, that three of the opposing clubs from Aberdeen's scoreless run have since ceased to exist; the only other time Aberdeen have been held scoreless five games running, in 1973, three of them were against a Celtic team in the midst of their nine-year championship streak.
With the Dons' only goal of 2020 coming from the penalty spot and their last of 2019 a direct free-kick, it has now been well over 10 hours since they scored from open play.
Tony Docherty was wrong to say that the fans' recent grumpiness is disrespect.
It is the opposite. It is inspired by love, and their accurate assessment that something in the team's set-up and play is fundamentally wrong.
But if Docherty and his boss are unable to keep the supporters' temperature from rising another 1.5 degrees, they will find the waters of the North Sea closing in on top of them.