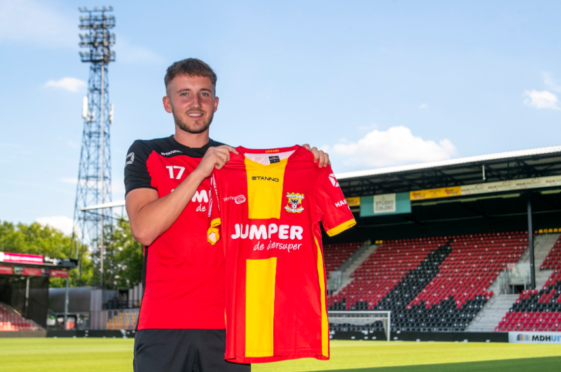 He was unveiled amid a fanfare of bagpipes and Scottish stereotypes.
But Frank Ross is determined to hit the right note for Go Ahead Eagles after ending his long association with Aberdeen.
Ross penned a two-year deal with the Dutch second division side last week, with a video announcing his arrival proving popular on social media.
However the Ellon-born midfielder – who confessed he cannot play the bagpipes – is determined to make the most of his fresh start.
🏴󠁧󠁢󠁳󠁣󠁴󠁿 | 𝗦𝗰𝗼𝘁𝗹𝗮𝗻𝗱 𝘁𝗵𝗲 𝗕𝗿𝗮𝘃𝗲!

𝘚𝘪𝘯𝘥𝘴 𝘫𝘢𝘢𝘳 𝘦𝘯 𝘥𝘢𝘨 𝘪𝘯 𝘰𝘯𝘻𝘦 𝘰𝘱𝘬𝘰𝘮𝘴𝘵𝘵𝘶𝘯𝘦.
𝘝𝘢𝘯𝘢𝘧 𝘯𝘶 𝘰𝘰𝘬 𝘰𝘱 𝘩𝘦𝘵 𝘷𝘦𝘭𝘥… 🙌🏼#WelcomeFrank pic.twitter.com/FGnol5JZol

— Go Ahead Eagles 🦅 (@GAEagles) August 20, 2020
Ross said: "I just need to get back playing. That's what the owner said – they believe in my potential, I just need some games now. I've got two years and an option of a third year, so I've got heaps of time to get fit and hopefully score some goals.
"It's very technical and there's a lot of passing. Defensively they're very organised. It's like the polar opposite of Scottish football; it's not very direct at all, whereas in Scotland it's all about getting the ball forward.
"Hopefully it'll suit my style of play. I feel like I've learned a lot already. I'm off the wing and into the middle now."
Go Ahead have earmarked Ross for the number 10 role and the security of a two-year deal, with an option for a third year, should give him the chance to shine.
On the same day he was announced another Scot made the move to the Netherlands, with youth international Lewis Fiorini joining NAC Breda on loan from Manchester City.
It has also been a popular destination for Chelsea's loan players, with an agreement with Vitesse Arnhem seeing players like Mason Mount head out to get game-time.
Ross is ready to embrace the challenge of living away from home for the first time and hopes to start taking Dutch lessons.
"It's a big challenge. Apart from my loan moves I've basically lived at home. Even with the loans it's been Glasgow, so you can go home whenever you want.
"It's something I'm looking forward to. Holland is quite a nice place and I'm looking forward to living by myself, doing the cooking and cleaning.
"There's a few foreign lads here but I think once a week they go for Dutch classes in the city, so I'll have to get on that."
Ross had been with the Dons from the age of eight until his departure this summer. He made his debut in May 2015 and went on to make 18 senior appearances, scoring twice.
He had endured an injury-hit two years, with ankle and back problems plaguing him and disrupting a loan spell at Ayr United. He had previously had a stint with Championship side Morton.
The reaction to his move to the continent has been positive, with friends and family wishing him well on the opportunity.
Ross added: "My dad is big into his football and has watched a lot of Dutch football over the years. When he heard about it he was buzzing, because of the style of play and what you can learn from being out here.
"I think my mum's going to miss me but she knows it's what I want to do and it's such a great opportunity."