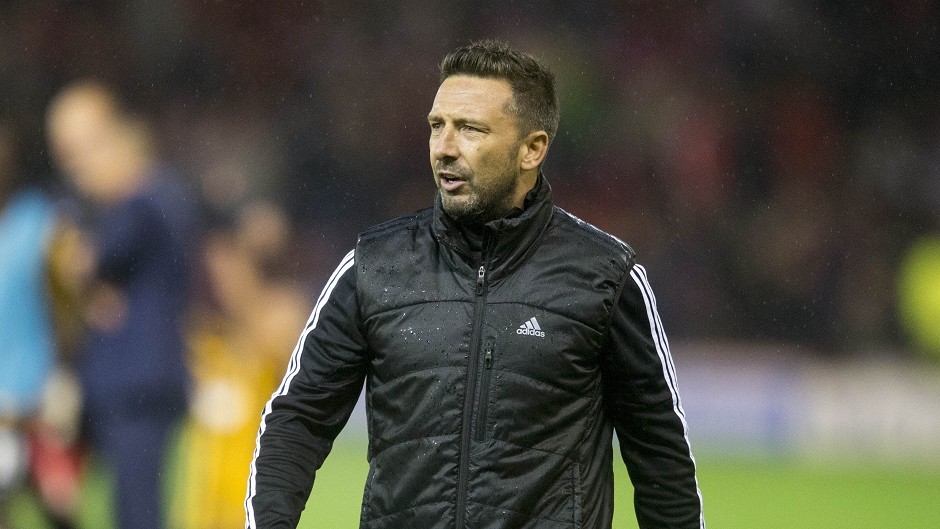 Aberdeen manager Derek McInnes yesterday snubbed Scottish Premiership sponsor Ladbrokes when he refused to pose with his September manager-of-the-month award.
The Dons manager, whose Reds return to league action at Ross County tonight, was happy to accept the award for his team's efforts last month in taking the club top of the table on the back of an eight-game winning start to the campaign, a club record.
But McInnes did not want to publicise his award, believing it was inappropriate after his side's 5-1 home defeat by St Johnstone on October 3.
McInnes said: "We won three games out of four in September and won at Tynecastle but it didn't sit right getting it after losing to Inverness and then 5-1 to St Johnstone."
The Dons manager's decision, however, came just 24 hours after the bookmaker announced it had closed its book after bets were placed on McInnes becoming the next manager to leave a top-flight club.
The announcement provoked the Dons into releasing a statement insisting their manager was not leaving Pittodrie, while chief executive Duncan Fraser also contacted SPFL chief executive Neil Doncaster to express Aberdeen's dismay at the unnecessary and unwarranted speculation it caused at the club.
McInnes said: "I don't think it's helpful, they don't help managers in that situation.
"You need to ask yourself what the intention was. What other people think is probably the same as I do – it was baffling and unusual.
"The club shouldn't need to put a statement out to shut people up because of rumour and internet stories. For me, when the league sponsor is at the heart of it, then it's not helpful.
"I was getting texts and calls about it. The chief executive has spoken to Neil Doncaster about it but it's not just an Aberdeen thing.
"We all know the pressure comes when you don't get results and that it's part and parcel of it. But when you are main sponsor I think you have a responsibility.
"I think they should be working with clubs and with managers to foster relationships rather than working against us.
"I was baffled by the whole thing, it was bizarre."