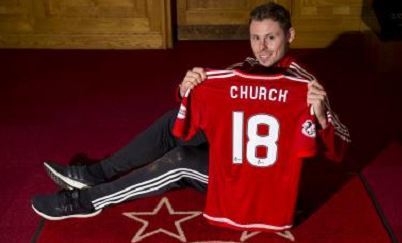 MK Dons attacker Simon Church hopes his loan move to Aberdeen will secure his place in the Wales squad for this summer's European Cham-pionship finals in France.
The 27-year-old arrived at Pittodrie yesterday from the English Championship side on loan until the end of the season and is in the squad for tonight's crucial Premiership home match against champions Celtic.
The stakes are high for the Dons and the player who pushed through his move to Scotland.
He said: "I got a phone call about it last week and I approached my manager Karl Robinson at Milton Keynes. He said for the benefit of me playing for Wales in the summer it was probably the best idea.
"They said I could go if they could get someone else in so I am glad it all went through and I am here."
Church's international team-mate Danny Ward forced his way into Coleman's squad by consistently performing for Aberdeen before Liverpool recalled him to Anfield and Church hopes he can have a similar impact at Pittodrie.
He said: "I know Danny loved it up here because he told me about it when we met up with the Wales squad last time.
"He was doing well there before he went back to Liverpool, the loan move was good for his career and I am looking to kick on here.
"Looking from the outside, the team is doing well and scoring a lot of goals.
"At MK Dons it was hard for everyone. We were struggling at the bottom of the Championship and not many chances were being created or scored.
"I felt for the benefit of my career and the chance to break into the Wales team for the European Championship finals this move is massive for me. I am desperate to go to the finals and I hope my national manager will be pleased.
"It was a decision I had to take. I knew I had to get back to where I was a couple of years ago. My career has been a bit stop-start and I need to get my consistency back."
Church's international ambitions will fuel his determination to succeed for the Dons, but he knows fellow attacker Adam Rooney, has the same script as he attempts to earn a place in Martin O'Neill's Republic of Ireland squad for the finals.
Far from seeing himself as competition for the Dons' leading scorer, Church believes the duo can help each other.
Church, who was a teammate of Dons midfielder Jonny Hayes at Reading, said: "Adam has been doing great all season. He has proved he can score goals at this level, but I wouldn't say I am coming here to take his place.
"I am here to help and further my career.
"I can play in a one or two-man attack. As long as I get plenty of game time I will be happy. I have come here to score goals and play well. Luckily, my first game is against Celtic. But Aberdeen are challenging and this is a good place to come to. I am here to play games and to do as well as I can for the team."